Heritage inspires new Jameson campaign in US
By Owen Bellwood
As Jameson debuts its new Legendary Tales campaign, the brand's US engagement director said heritage will remain a "key source of inspiration" for its marketing efforts.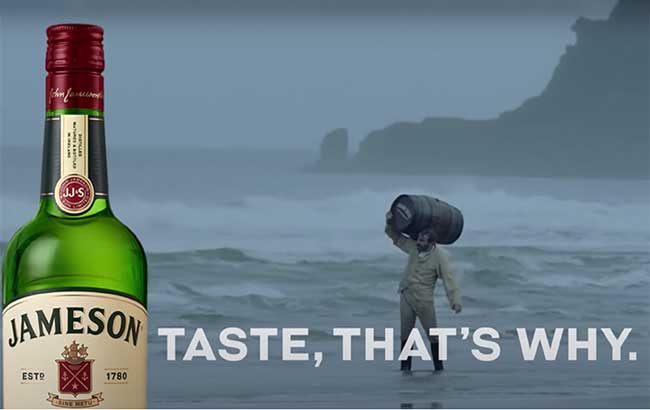 Andrew Eis, Jameson engagement director at Pernod Ricard USA, was speaking as the Irish whiskey maker unveiled its Legendary Tales campaign in the US, which highlights 240 years since the first barrel of Jameson whiskey was filled through its Lost Barrel film.
"We're incredibly proud of that legacy," said Eis. "From our marketing to product packaging to, of course, the signature triple-distillation process still used today, honouring our heritage remains a key source of inspiration. And, as you'll see in our tale of the Lost Barrel, we were once again inspired by our heritage and founder, John Jameson."
The Lost Barrel film forms the centrepoint of the Legendary Tales campaign and "playfully dramatises" the steps taken by founder John Jameson to deliver his whiskey to the world.
Eis added: "In addition to bringing back Lost Barrel, we are inviting fans to explore the legend of John Jameson online with interactive quizzes and trivia and through glimpses into the Jameson archive – all from our Facebook and Instagram channels.
"Digital has to be at the center of any marketing plan. Social media allows us to create consistency in highlighting the profile and personality of Jameson Irish whiskey, and we're extremely lucky to have such an engaged community."
The new film is available to watch below and will air in the US. The campaign will be extend online, where drinkers will be able to uncover inspiration for seasonal cocktails and find out how to make them at home.
Eis said: "Our marketing is designed to not only showcase the smooth taste of Jameson and our triple distillation process, but also the many occasions when Jameson and Irish whiskey cocktails can be enjoyed. By underscoring product and occasion versatility we've been able to engage new drinkers, particularly those who may have preconceived notions about whiskey in general."