Monkey Shoulder creates New Rules for Mixing campaign
By Nicola Carruthers
Blended malt whisky Monkey Shoulder has launched a new campaign in the UK to encourage consumers to return to bars.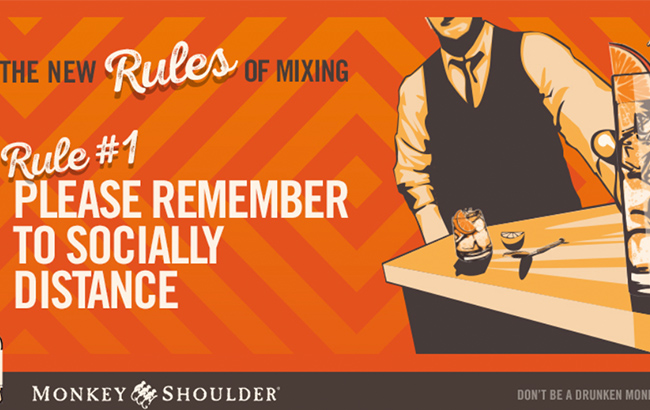 The William Grant & Sons-owned brand is using £250,000 (US$321,400) worth of outdoor media space to get people back into bars and pubs in the UK. The funding was secured after the brand was named a runner up in Ocean's Crucial Creative Competition.
The campaign, called The New Rules for Mixing, is described as a playful take on the brand's Made for Mixing tagline. The campaign uses Monkey Shoulder's "cheeky tone and distinctive branding style to bring to life the social distancing measures in a fun and memorable way".
The campaign kicked off on 16 September with advertisements displayed in Manchester and Birmingham, and across social media.
Monkey Shoulder has also partnered with 10 independent bars across eight cities as part of the campaign.
The venues include The Dam, Glasgow; Uno Mas, Edinburgh; Kin, Edinburgh; Present Company, Liverpool; Mother's Mercy, Newcastle; Cane & Grain, Manchester; Science and Industry, Manchester; and Theatrix, Birmingham.
The campaign will include billboards in London's Hammersmith, Glasgow, Edinburgh, Birmingham and Manchester, and adverts in Birmingham, Manchester, Liverpool, Nottingham, Glasgow, Edinburgh, Newcastle and Leeds.
The regional campaign will debut on 24 September with a tailored ad for each bar partner. Each visual will depict a different measure such as reminding consumers to wash their hands, wear a mask, not to sing or shout and to give other customers space.
Furthermore, Monkey Shoulder will offer a free drink at all of the participating venues to entice drinkers back to their local bars.