Bowmore celebrates The Art of Time
By Melita Kiely
Islay Scotch whisky Bowmore has created a new global campaign to celebrate more than 240 years of the brand's history, called The Art of Time.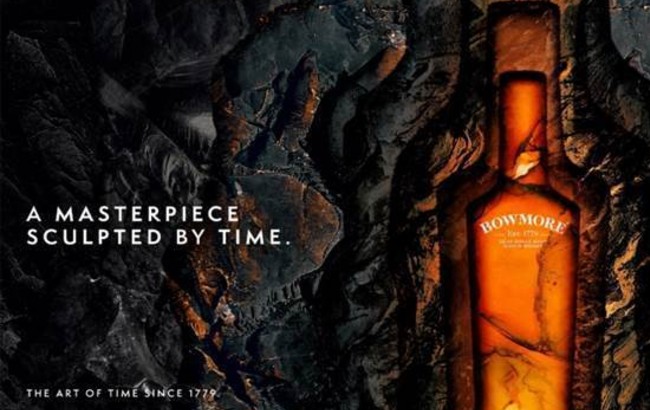 The Art of Time will launch in October covering traditional media, social media and digital commerce platforms, including still and dynamic content, secondary imagery and a set of key visuals. The campaign will also feature retail displays and window displays for whisky specialists, department stores and events.
The campaign aims to depict how Bowmore whiskies benefit from 'the power of time' as they mature. Bowmore was founded in 1779.
Céline Daniel, global marketing manager at Bowmore, said: "This is the first time we will be exploring Bowmore's history and craftsmanship with such depth and with such consistency at a global level.
"We believe that Bowmore is a work of art and our understanding and respect for time is central to how and why we craft our whisky. With this campaign, we will show how Bowmore uses time to transform our celebrated single malt into a true masterpiece.
"By drawing inspiration from the black rocks surrounding our distillery, we are also paying homage to the way time has shaped not only our whisky, but also Islay itself."
Last month, Bowmore revealed a partnership with luxury car maker Aston Martin. Together, they created a £50,000 (US$66,000) whisky, called Black Bowmore DB5 1964.