A drink with… William Borrell, Vestal Vodka
By Melita Kiely
William Borrell, founder of Vestal Vodka, discusses the resurgence of vodka with flavour, as opposed to flavoured vodka, and the potential for low‐alcoholic 'spirits' to thrive.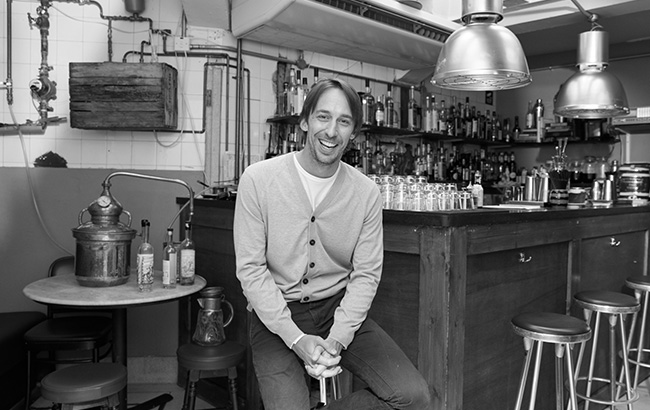 How have attitudes towards potato vodka changed since you launched?
When I first started, potato was considered inferior to the quality of liquid that you would find elsewhere. A lot of firms, that shall not be named, have done really good work on premium grain and particularly wheat vodka. But by the very definition, potato vodka is far more syrupy and viscous. For those cocktail connoisseurs in the US, they have always shouted out 'can I have a potato vodka Martini'. They have understood it better than our EU connoisseurs. There's been a real kind of resurgence in potato vodka now.
Halewood acquired a 48% stake in Vestal in January. What difference will this make to the brand?
A lot of stuff has been going on around that in the background; we have been working together for 18 months. We now have a new bottle that better communicates our message that we are an organic Polish vodka. And we get to integrate historical cues with more modern philosophies. Halewood has allowed us to create a more premium design and now our glass is slightly tinted and coloured because it's recycled glass. Little things like that were beyond my wildest dreams. Working with a team that goes into 200 countries is incredible. We are actively sending as much distribution as we can. We now have the opportunity, size and scale to move and to really take advantage of any new distribution opportunities that we have.
What has been the biggest change for Vestal since you launched?
Without a shadow of a doubt, it's the partnership with Halewood. They have taken me, one man with a suitcase selling bar to bar by hand, and allowed me to work with the team at Halewood, and really turn my ideas into reality. We are a small family business, so the synergies between us are perfect. You don't have any red tape like with the big companies; you can speak to the owners about your ideas, and they'll say 'yes' or 'no'. For me, to have that support from such a large firm makes exactly what we've been doing as a small company easier with that additional help.
With the Halewood deal came news of a new vintage. Tell us more about it.
It's a 2015 vintage vodka. Through no fault of our own we produced a vintage. We have been doing it since about 2008, 2009. We were looking at unfiltered vodka with flavour as opposed to flavoured vodka. A few years ago Belvedere joined us, and last year, Grey Goose was looking at unfiltered terroir vodka. It's great for the category to have unfiltered vodka, almost like having white spirit with flavour, much like Tequila or mezcal or shōchū, and it's really starting to excite the on‐trade. We had the 2015 vintage resting in stainless steel open casks for about four to five years. The oxidisation softened the liquid and added this sweetening quality, but still with all the complexities of the vodka itself.
Vodka often gets a hard time, particularly when compared to gin. Are perceptions changing?
I think it's because vodka firms had crashed the market and lost all respect from consumers. It was very bling with not much substance. But now unfiltered vodkas are on the rise. People are looking for interesting vodkas with flavour, and that's what Vestal has always been about.
You entered the low-alcohol space with Willow. Where did the idea come from?
I call the low‐and‐no sector the 'emperor's new clothes'. Companies are telling consumers there's a trend, rather than people saying 'we demand this'. There's a lot of pipe fill and push. There are many on the market, but when I taste them, there's nothing there. It doesn't seem fair to spend more than a premium bottle of gin on 'water'. We made a quality low‐ABV product that contains the flavour you get with alcohol, but without the high strength. There's a lot of room for quality low‐ABV products. The potential is huge.