Top five best-selling ready-to-drink brands
By Nicola Carruthers
The ready-to-drink category was the fastest-growing alcohol segment in 2019 with a swathe of new product launches and innovation. We look at the brands dominating the leaderboard.
The IWSR Drinks Market Analysis said the ready-to-drink (RTD) category was the fastest-growing alcohol segment in 2019 and is forecast to remain the fastest-growing sector over the next five years.
The RTD sector has been boosted by the "innovation and convenience" of hard seltzers – alcoholic sparkling water – in the US. Keen to capitalise on the category's soaring popularity, an array of alcohol producers have created their own hard seltzer brands this year.
Looking across our best-selling list, there were only five million-case-selling RTD brands, one of which was a hard seltzer. Three of the RTD brands reported huge growth last year.
Following our recently published Brand Champions 2020 report – an analysis of the spirits brands selling more than one million cases annually – we run through the world's best-selling ready-to-drink brands on the market today.
Click through the following pages to discover the top five best-selling ready-to-drink brands, listed in order of their nine-litre case sales.
Data is listed to one decimal place for ease of reading, but the percentage changes are based on the full data supplied to The Brand Champions 2020.
5. Jack Daniel's Country Cocktail
2019: 1.4m
2018: 1.2m
% change: 14.8%
Place last year: 5
One of three Brown-Forman brands to make our RTD list is Jack Daniel's Country Cocktail, which grew by an impressive 14.8% in 2019.
Jack Daniel's Country Cocktails come in eight flavours: Jack Apple, Black Jack Cola, Cherry Limeade, Berry Punch, Downhome Punch, Lynchburg Lemonade, Watermelon Punch and Southern Peach.
Last year, the brand added Southern Citrus to its range – a blend of grapefruit and citrus flavours.
4. Campari Soda
2019: 1.5m
2018: 1.5m
% change: 0.0% 
Place last year: 3
Campari Group's Campari Soda witnessed stagnant sales in 2019, selling 1.5m cases.
Campari Soda is a single-serve apéritif with an ABV of 10%. The brand was first created in 1932 and claims to be the first pre-mixed drink in the world. Its conical-shaped bottle was designed in the 1930s by Fortunato Depero.
During Campari Group's 2019 full-year sales, Campari Soda increased by 1.6%, boosted by a new advertising campaign in its key Italian market. Could the marketing push help the brand grow its sales this year?
3. New Mix
2019: 6.5m
2018: 6.9m
% change: -6.4%
Place last year: 1
Dropping down two places on our list was Brown-Forman's Tequila-based RTD New Mix, which was 2018's top-selling RTD brand. The brand witnessed its first decline in five years, dropping 6.4% to 6.5m cases.
In Brown-Forman's fiscal 2020 results, the Tequila portfolio grew 2% as New Mix's declines were more than offset by Herradura's 8% net sales growth, led by double-digit volume growth in the US.
2. Jack Daniel's & Cola
2019: 7.9m
2018: 5.2m
% change: 51.5%
Place last year: 2
Brown-Forman's Jack Daniel's & Cola RTD remains the second best-selling RTD brand with sales of 7.9m last year – an increase of 51.5%.
In Brown-Forman's first nine months of fiscal 2020, the Jack Daniel's RTD business was said to be "over nine million cases globally and continues to deliver solid growth" as it offers consumers "convenience in their drinking occasions".
Brown-Forman's growth during the period was led by the Jack Daniel's family of brands, which was boosted by the performance of the RTDs in Germany, the US and France.
1. White Claw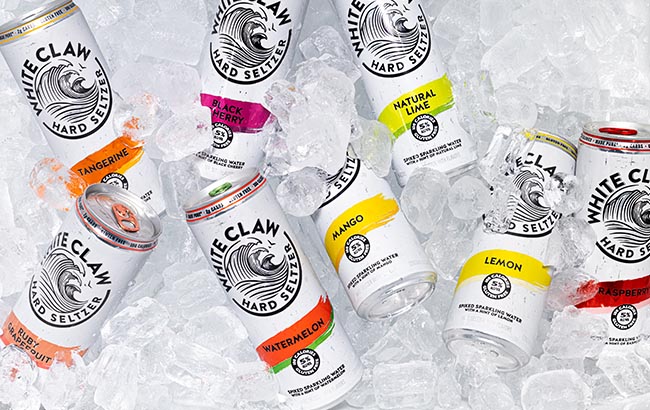 2019: 27.5m
2018: 6.9m
% change: 298.0%
Place last year: New entry
Mark Anthony Brands' White Claw is the only hard seltzer on our list. A new entry to this year's list, the brand comfortably took the title of top-selling RTD in 2019.
Hard seltzers have taken the US by storm and grew by more than 200% in volume last year.
White Claw started at 0.4m cases in 2016, but grew volumes to 27.5m in 2019 – a 298% increase on the previous year (6.9m cases). White Claw's enormous growth led to it being named the fastest-growing brand in our 2020 Brand Champions report.
Following its success in the US, the brand has set its sights on the UK and launched in the market last month. The company also plans to invest more than US$250m in opening a new facility for White Claw in Arizona, US, and will launch in Australia in October.