SB meets… Mark de Witte, De Kuyper CEO
By Nicola Carruthers
As Dutch drinks firm De Kuyper celebrates its 325th anniversary this year, CEO Mark de Witte tells SB about the company's plans to tap into the low- and no-alcohol space and modernise the liqueur category.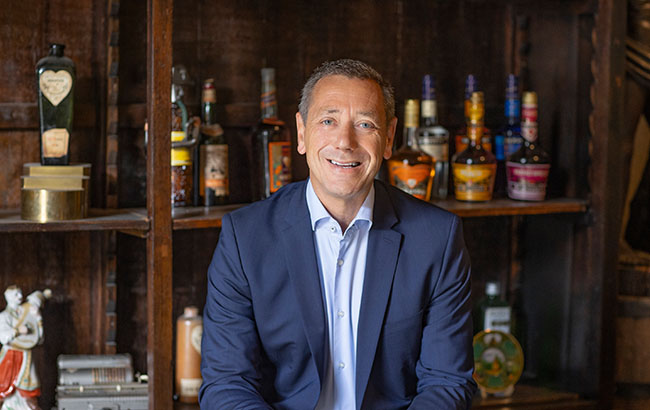 This year De Kuyper celebrates its 325th birthday. What activities do you have planned to mark the occasion?
We had a lot of festivities planned with our business partners, employees, customers and the De Kuyper family, but due to the pandemic we had to postpone many activities to next year. There will be a lot more to come in 2021.
How has De Kuyper grown in the years since it was founded? How has it changed since you joined the company five years ago?
De Kuyper has always been about distilling and quality for 325 years. The company has overcome more than 10 pandemics since its founding in 1695 and has always focused on craftsmanship. Each concern, challenge or issue has been the base for new opportunities. For example, the Prohibition in the US during the 1920s led to the production of De Kuyper's liqueurs.
Today, De Kuyper is the world's largest premium cocktail liqueur brand. The firm has some of the most renowned liqueurs in its portfolio such as Mandarine Napoléon, Cherry Heering liqueur and Peachtree. The liqueurs are available in more than 100 markets with almost 40 million bottles sold every year. De Kuyper intends to premiumise and modernise the liqueur category.
Since the last economic crisis in 2008 the company slowed down a bit and lacked a clear vision and strategy. In 2015 we started our business transformation with the aim of becoming a globally recognised spirits company. With our vision to 'own the cocktail', De Kuyper hopes to come to the mind of bartenders and consumers when they think about cocktails. Furthermore, we adjusted our portfolio to focus on cocktails with our priority brands, De Kuyper liqueurs, Peachtree, Rutte Gin and Genever and Mandarine Napoléon, and we acquired leading liqueur brand Cherry Heering.
We successfully repositioned Peachtree and the De Kuyper brand in order to democratise cocktails and both brands are developing well. Moreover, De Kuyper created Bébo, a super-premium coffee liqueur that was developed to make the best Espresso Martini.
Another important pillar of our business transformation are collaborations with strong business partners such as Beam Suntory. Next to our long-lasting cooperation in the US, we work with Beam Suntory in the Netherlands, Germany and Austria.
How has the coronavirus pandemic affected the business? Has De Kuyper's strategy changed in terms of the on- and off-trade?
A big part of our income results from the on-trade. Due to the pandemic we had to shift our business a bit more to the off-trade and e-commerce. Still our strategy will remain as it has been for the past five years with a focus on the on-trade and partnering with bartenders to create great cocktail experiences for consumers.
It is of utmost importance for us to help our on-trade business partners in this challenging time. We joined the national initiative, Help De Horeca, to support the Dutch on-trade during the coronavirus and helped produce hand sanitiser.
De Kuyper released a number of innovations in the past year, including bartender collaborations. Are there plans to release further products in the coming year? 
We share our passion for craft distilling, high-quality ingredients and excellent cocktails with bartenders across the world. To foster these strong relationships De Kuyper initiated a signature edition of liqueurs made in collaboration with top bartenders to bring together the strength and expertise of both sides. Unique, innovative liqueurs such as Muyu with Alex Kratena, Monica Berg and Simone Caporale, Dutch Cacao with Joerg Meyer and Aqua Bianca with Salvatore Calabrese are great examples of this.
Our first priority is to further strengthen and develop our existing bartender collaborations as they were launched just prior to the crisis.
The excellent consumer and bartender feedback on our new liqueurs confirms our intention to create high-quality products. We are also working on new bartender collaborations, as well as product innovations, in the no- and low-alcohol area for example, with new ready-to-drink products coming first. There is a lot more to come.
Are there any drinks trends that the company would like to tap into?
As our company focus is on cocktails, we see a lot of opportunities in the area of Spritzes and Highballs. These drinks resonate perfectly with the low-alcohol trend.
Which markets are the most exciting for De Kuyper?
We see a lot of opportunities in China, Japan and South Korea. And there is space to improve our availability in Europe, including the UK, the Netherlands, Germany, Scandinavia and Italy.
Is the firm looking to acquire additional brands? Are there any gaps in the portfolio?
We are always open and looking for additional brands that perfectly fit our portfolio. But since we don't see a gap in our portfolio we are not actively acquiring at the moment.
Our focus is more on further integrating and building brands we've already acquired or took a stake in, like Fiorito Limoncello (minority stake) and Cherry Heering liqueur. We see sufficient opportunities to grow our existing portfolio. We have some serious innovations in the pipeline and we want to focus on that.
What challenges will De Kuyper face in the coming year?
We hope that the on-trade will soon be up and running again, but anyone can see that this will take some time with the upcoming economic crisis being no help.
Regarding the spirits business, there will be changes that we have to adapt to. We expect a new market situation with growing off-trade and e-commerce, at least for the short term. We certainly will support the on-trade, where we can, to pick up their business in these difficult times.
What is in the pipeline for De Kuyper over the next year?
There will be several innovations favouring the no- and low-alcohol trend that will hit the market at the beginning of 2021. Our new products will partly focus on democratising cocktails – making cocktails available for everybody – and partly on premiumising the category.
What will the next decade hold for De Kuyper?
Prior to the coronavirus crisis, De Kuyper was in the fifth year of its business transformation and well on track with full year 2019/20 (ending 30 April 2020) promising to become our best year of the last decade. However, Covid-19 hit us hard in March/April.
We consider 2020 as a bridging year and expect to pick up pace in 2021. We are convinced that we are very well positioned for significant growth in the next decade. We keep on following our vision to 'own the cocktail'.