Boutique-y unveils World Series whisky range
Independent bottler That Boutique-y Whisky Company (TBWC) will release a range of world whiskies next month, the first collection in a new themed series.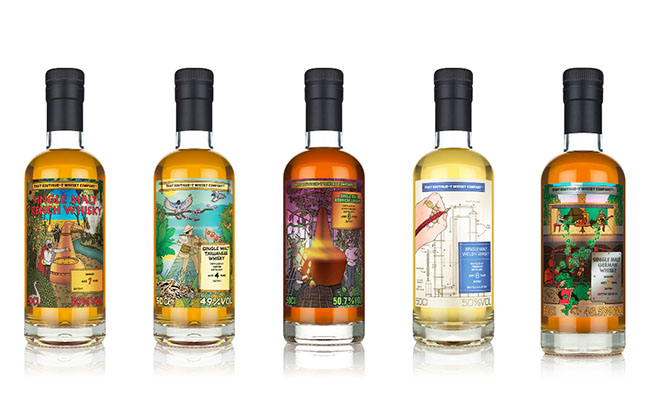 TBWC usually releases bottlings throughout the year once the liquid is ready, however the bottler will now focus on themed releases at particular times during the year. The move is part of a wider marketing strategy for the firm and will include live online tastings, interviews and a deeper involvement with distilleries.
Sam Simmons, head of whisky at Atom Brands, TBWC's parent company, said: "The world wanted more Boutique-y so we delivered over 300 new batches reaching further around the world than ever before.
"But with all our time taken up with seeking out casks, bottling as many as we could and shipping them everywhere we could, we sacrificed a bit of the fun, and a lot of the focus."
The new release strategy will see TBWC launch its first collection, the World Series, on 4 August 2020. The inaugural theme was chosen due to an increase in consumers looking to 'new world' whiskies, with contemporary whisky growing by 32% in 2018, according to The Whisky Yearbook 2019 report by Edrington-Beam Suntory.
Jen Ghosh, TBWC global brand manager, said: "The world of Boutique-y Whisky is a beautiful one, and has been a busy one. In 2019, we released a significant number of bottlings and the whisky world couldn't keep up. At times, neither could we! It meant delicious small-batch bottlings for many but, not enough time for Boutique-y storytelling.
"This new way of releasing Boutique-y whisky hopes to whet the appetite of drinkers looking for discovery and whisky adventure. Whilst also allowing us the opportunity to delight them with collectability, live tastings and digital content. There are no strict rules (of course), our themed releases might be grouped by producer, region, style, flavour or like this inaugural series, by the way we see the whisky category: as a world of limitless potential and delicious possibilities."
The launch of the new batch also follows the success of TBWC's World Whisky Summit, which was held on World Whisky Day (16 May).
The 10-strong collection includes TBWC's own World Whisky Blend, along with bottlings from distilleries such as Nantou in Taiwan, Penderyn in Wales, Langatun in Switzerland, Millstone in the Netherlands, Paul John in India and Mackmyra in Sweden.
The TBWC World Series collection comprises:
Armorik 7 Year Old – RRP £73.95
Copperworks 3 Year Old – RRP £73.95
Penderyn 6 Year Old – RRP £78.95
Nantou 4 Year Old – RRP £74.95
Elsburn 7 Year Old – RRP £167.95
Langatun 5 Year Old – RRP £89.95
Millstone 4 Year Old – RRP £49.95
Mackmyra 5 Year Old – RRP £67.95
Paul John 6 Year Old – RRP £97.95
World Whisky Blend – RRP £32.95
Each whisky will be available to buy online from Master of Malt. Ahead of the release of the collection on 4 August, the retailer will launch a sale with discounts on select limited edition expressions until stocks are gone.