Glasgow Distillery launches final Signature Range whisky
By Owen Bellwood
The Glasgow Distillery Company has completed its Signature Range with a triple-distilled single malt Scotch whisky matured in virgin oak casks.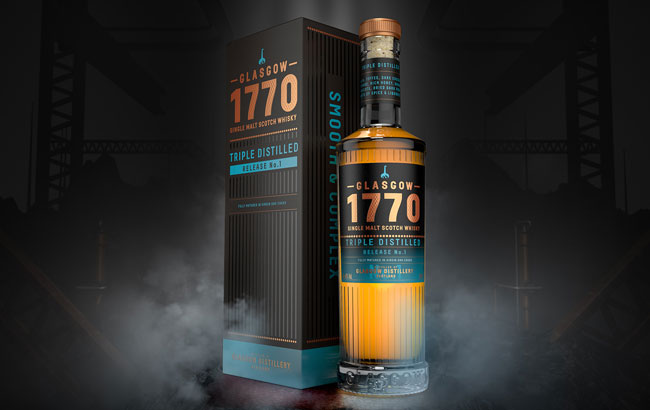 Glasgow Distillery's 1770 Single Malt Triple Distilled – Release No.1 follows the launch of 1770 Peated expression in 2019 and Glasgow 1770 Original in 2018.
Made using water from Loch Katrine, the whisky was matured exclusively in virgin oak casks to create a "smooth single malt whisky with deep complexity, character and warmth".
On the nose, 1770 Single Malt Triple Distilled has "aromas of rich sweet butterscotch toffee and dark cherries" which leads to "hints of ripe pear and baked vanilla cheesecake on the palate, followed by spicy chocolate".
Liam Hughes, co-founder of The Glasgow Distillery Company, said: "It has been a project of passion for everyone at the distillery and is truly a celebration of two of the essential elements in the whisky making process: the water and the wood.
"We're incredibly fortunate that our natural water supply is from Loch Katrine, it gives such softness and purity to our whisky. We also have access to virgin oak casks of outstanding quality and have used these for the entire duration of this whisky's maturation. The additional complexity and depth that this adds is exceptional and the marriage of these two elements, the water and the wood, is really apparent in this exciting new release which we are proud to add to the Glasgow 1770 Signature Range."
Non-chill-filtered and made without caramel colouring, Glasgow 1770 Triple Distilled – Release No.1 is bottled at 46% ABV and is now available to purchase from the Glasgow Distillery website for £49 (US$60).
Glasgow Distillery's 1770 Single Malt Triple Distilled is the third and final release in the distillery's core range. The distiller now plans to create a selection of single cask and limited edition releases.
Hughes added: "It has always been our vision to create a core range of single malts that reflect differing production styles. Our vision was influenced by the original Glasgow Distillery, which was founded in 1770 and inspired the name for our range of single malts.
"After discovering that they produced unpeated, peated and triple-distilled whisky some 150 years ago we set out to do the same for the modern whisky era."