Forty Creek unveils botanical-infused Canadian whisky
By Nicola Carruthers
Campari Group-owned Forty Creek has created the "world's first" botanical-infused Canadian whisky, described as a "full-flavoured" gin substitute.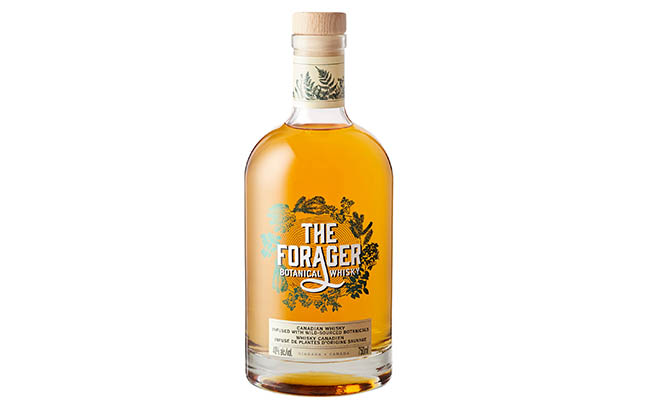 Described as a "category-defying innovation", The Forager Botanical Whisky was created to "reflect the natural elements of Canada's untamed wilderness".
"With the launch of The Forager, Forty Creek is excited to once again demonstrate its commitment to innovation in the Canadian whisky category," said Chris Staresinic, vice president of marketing, Campari Group Canada.
"Innovation and sustainability are key pillars of our company, and we are excited to share this spirit with Canadians."
Created by Forty Creek master blender Bill Ashburn, the whisky pays homage to the Ontario-based distillery's history of producing eau-de-vie.
"This definitely isn't your typical Canadian whisky," said Ashburn. "In fact, it's unlike anything I've ever created. As a whisky-maker, that's always exciting, knowing you have the chance to explore new territory and push the boundaries of what a Canadian whisky can be."
The Forager is made from a "light, fresh" Canadian whisky that is aged initially for three years. Prior to additional aging, select botanicals are steeped in the liquid to create a botanical-infused spirit that offers "subtle yet distinct and fresh notes".
The botanicals used have been handpicked by professional foragers who practice sustainable harvesting methods, Forty Creek said. Sourced from across eastern Canada, the botanicals include juniper berries, labrador tea, spruce tips, mugwort and sweet fern.
The Canadian whisky has a light amber colour and a "complex medley of flavours, such as herbal tea and a "long, peppery finish". On the nose, the aroma brings fresh cut pine, along with a hint of candied citrus.
Described as "light yet complex", the bottling is said to be a substitute for full-flavoured gin. The whisky is recommended served over ice with tonic water and a lemon slice.
The Forager Botanical Whisky is priced at C$34.95 (US$25.37) and is available now in Ontario, Alberta, British Columbia and Manitoba, with further Canadian provinces to follow.
Skyy Vodka owner Campari Group snapped up Forty Creek for €120.5m (US$134m) in 2014.
Last year, SB spoke to producers on the new wave of innovation washing over the Canadian whisky category.