Bardstown Bourbon breaks ground on new bottling facility
Kentucky-based Bardstown Bourbon Company has started construction on its new bottling facility, which will bring the production process in-house.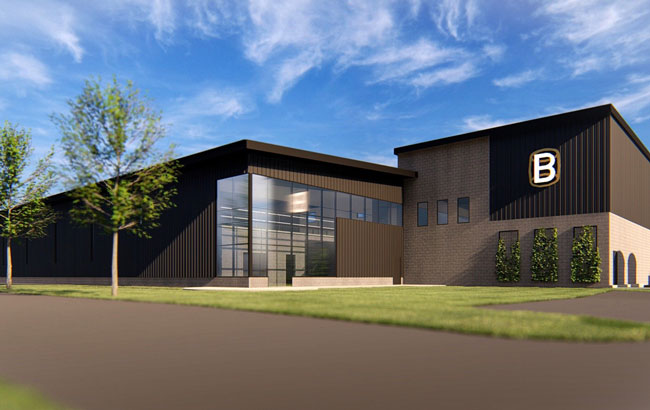 The new site will be located alongside the distillery and its recently opened visitor centre at 1500 Parkway Drive, Kentucky.
Designed by Joseph & Joseph Architects, the 47,000-square-foot development is projected to generate 25 new jobs upon its expected completion in spring 2021. The new space will also allow the firm to "bottle hundreds of thousands of cases of distilled spirits per year".
Bardstown Bourbon Company CEO, Mark Erwin, said: "The bottling facility is the natural next step in our evolution.
"Currently, both our brands and our collaborative distilling partners are bottled by an off-site third party. We're excited to close the circle and enable a true grain-to-glass process all in our own space."
Bardstown Bourbon Company, which produces custom whiskey for 27 customers, distils more than seven million proof gallons of spirit per year, equivalent to more than 300 barrels per day.
John Hargrove, Bardstown Bourbon Company's chief operating officer, added: "Our completely unique and inclusive process allows our customers to create custom Bourbons alongside us, all while driving education, innovation and experimentation.
"To be able to add bottling to our suite of services will be a game changer for us and our distilling partners."
Earlier this year, the Kentucky-based distiller created an Armagnac cask-finished whiskey as part of its Collaborative Series.
In 2018, Bardstown Bourbon Company doubled its production capacity following the installation of a second 50-foot-tall still.
Bardstown Bourbon Company is part owned by US drinks group Constellation Brands, which purchased a minority stake in the distillery in 2016.