Essential apps for drinks enthusiasts
From simple cocktail recipes to bottle recommendations, spirits aficionados and novices alike can easily expand their booze knowledge and at-home experimentation with these must-have apps.
According to data analyst Statista, the current number of smartphone users across the globe is 3.5 billion, equating to 45.04% of the world's population.
There are now plenty of apps available for the at-home bartender or on-the-go consumer who wants to find their next spirits purchase.
Whether it's searching for recipes for your favourite drinks, expanding your cocktail and spirits knowledge or creating picture-perfect recipe cards to share with friends and family, there's an app for every drinks lover among our selection.
Click through the following pages to see our pick of top drinks apps. The apps can be downloaded from the Apple App Store or Google Play store. 
Distiller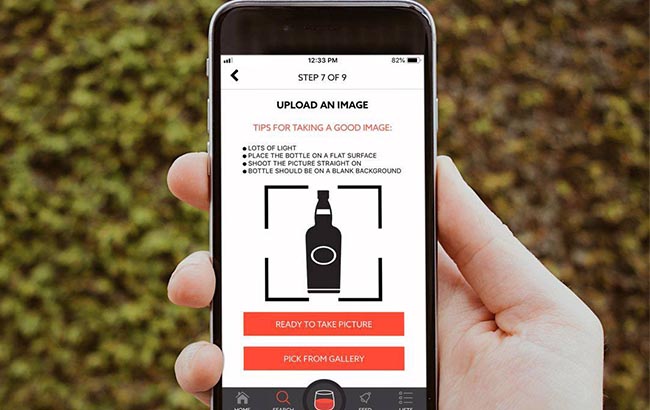 Founded and built by spirits enthusiasts, Distiller allows drinkers to rate, review and recommend an array of bottlings worldwide.
Distiller specialises in whisky, brandy, gin, vodka, rum, Tequila and mezcal, and offers an expert panel team of reviewers who make informed suggestions for your next purchase.
The platform allows consumers to rate bottles they've tried and recommend bottles based on your taste. It also allows you to connect with spirits lovers across the world and create a wish list with coveted bottles.
Highball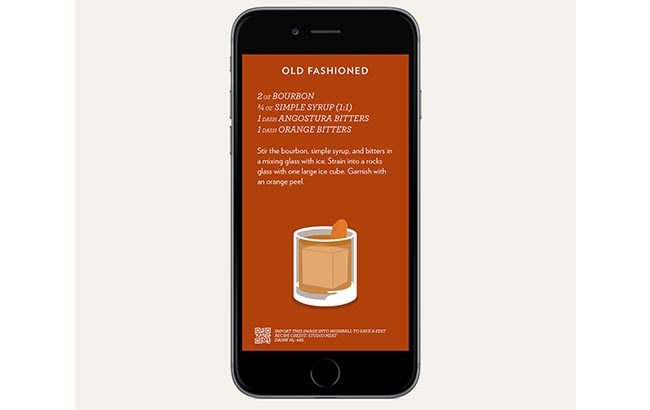 Highball allows consumers to collect and share cocktail recipes. Recipes are organised by virtual cards, which present either just the drink's name or a small preview of the ingredients involved.
The app allows you to share the cocktail recipes across social media using an aesthetic card, which can then be edited and stored on the platform.
Drinkspiration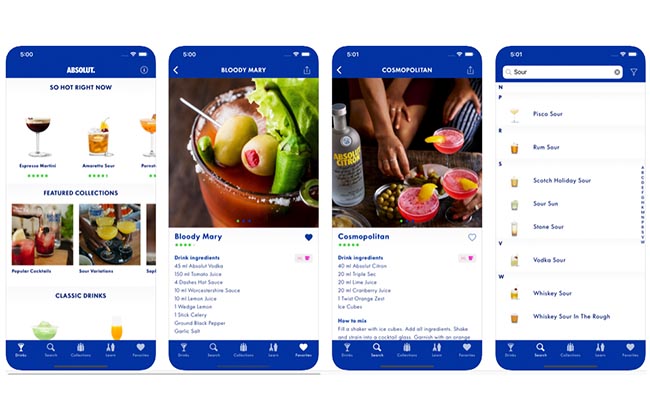 The Drinkspiration app has more than 3,500 drinks recipes based on an array of spirits including vodka, gin, rum, brandy, whisky, Champagne, Tequila and more. It also offers non-alcoholic cocktails for those who want to experiment without the booze.
The app features a wide collection of recipes based on seasons, occasions, easy-to-mix serves, classic cocktails and other themes. The recipes can also be viewed in different formats such as millilitres, ounces or parts.
Drinkspiration allows serves to be bookmarked to create your own collection and also features videos to expand drinkers' cocktail knowledge.
Mixology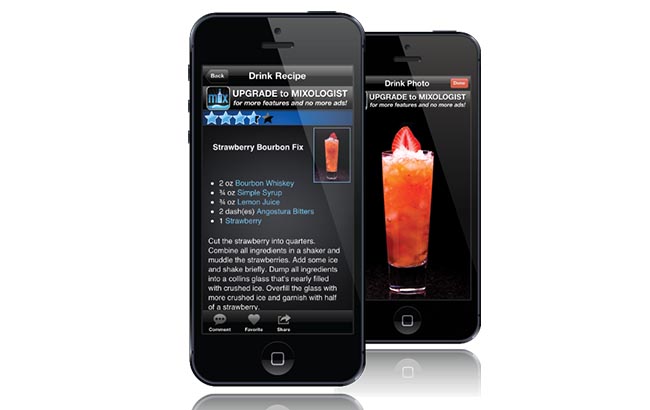 With more than 8,000 drinks recipes, the Mixology app allows cocktail lovers to browse and search for their favourite drinks.
The Liquor Cabinet feature allows users to enter all the spirits and mixers to hand and search the entire database for all the cocktails that can be made with those ingredients.
The Random tab has a slot-machine interface, which lets you find random cocktail recipes based on spirit, mixer, and glassware criteria.
There is also a paid version of the app, called Mixologist, which allows consumers to create their own cocktail recipes and comes without ads.
Drizly
The ultimate app for alcohol delivery in the US, Drizly also provides information about beers, wines and spirits from multiple stores at once.
Often described as the Amazon for booze, Drizly offers the speed and convenience of on-demand delivery, in-store pickup or intrastate shipping.
The app also allows consumers to search for their nearest alcohol store and provides delivery options and working hours.
Backed by investors, the company has raised US$32.8 million to date and operates in 102 markets across the US and Canada.
PDT Cocktails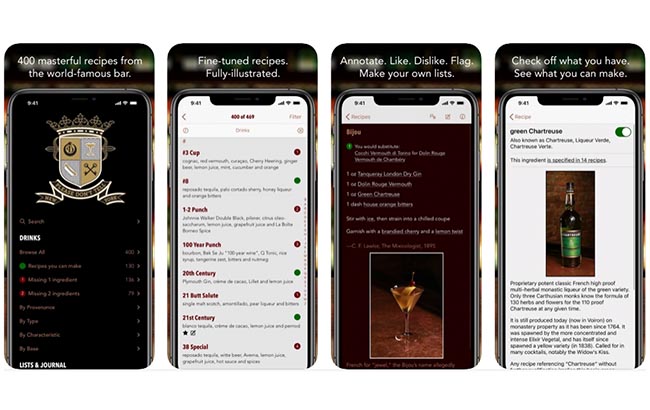 From famed New York City bar Please Don't Tell (PDT), this app comes with house creations and revamped classics that have graced the venue's menu since PDT opened in 2007.
The PDT app comes with 400 expertly crafted cocktail recipes, 69 recipes for the venue's homemade ingredients, and ingredient profiles that include photos and concise reference material.
There are also images of every cocktail and ingredient – more than 1,000 in total, each taken at the bar.
The app can be used on its own or as a companion to The PDT Cocktail Book, which the app augments with new PDT creations, historic recipes, and revisions to existing recipes based on available products.
The Liquor Cabinet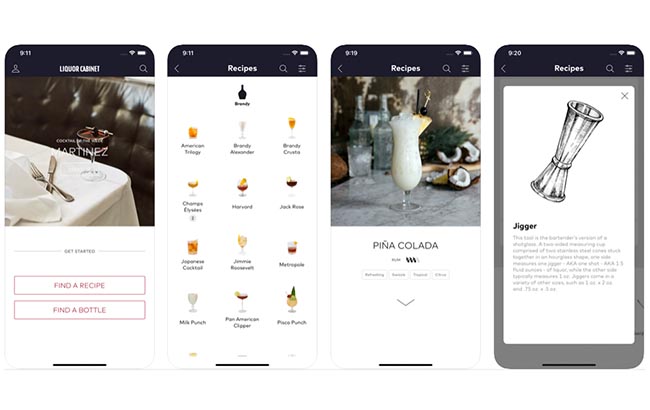 Described as the definitive resource for everything you need to know about craft spirits and cocktails, The Liquor Cabinet app features cocktail recipes, a bottle guide, brand stories, and tips and tools for behind the bar.
The app was founded in 2015 by brothers Patrick, Peter, and Sean Janelle and aims to be an on-the-go guide for the modern drinker.
The library of essential, classic cocktail recipes has been curated and tested by Maxwell Britten, former beverage director of Brooklyn's famed Maison Premiere. 
Bartender's Choice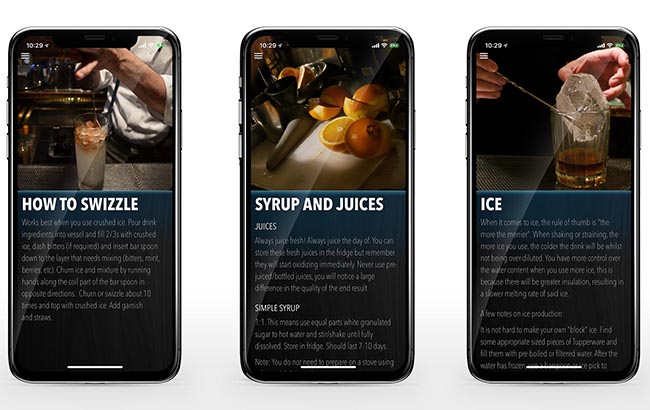 To really up your game when it comes to cocktail creation, the bartenders behind New York City bars Attaboy, Diamond Reef and Milk & Honey have masterminded a new app to allow cocktail fans to craft their own concoctions at home.
The updated version of the app offers hundreds of recipes by spirit, style of drink or sensation. There's also the option of letting the app choose a drink for you to make.
The app even lets you search by favourite bars and bartenders, and by drinks families like Highballs or Martinis.
The Spirits Business app
Readers of The Spirits Business can also get the latest news and updates from the spirits world with The Spirits Business app.
Free to download, the app provides daily news and insights from the SB editorial team. Readers who have a digital subscription to the monthly magazine can also flick through the latest edition from their smartphone or tablet to make sure you're up to date with all the latest industry news.