Bannie Kang on winning World Class
Korean-born, Singapore-based bartender Bannie Kang was a waitress when she first entered Diageo's World Class competition. On her third try in the event, she was victorious.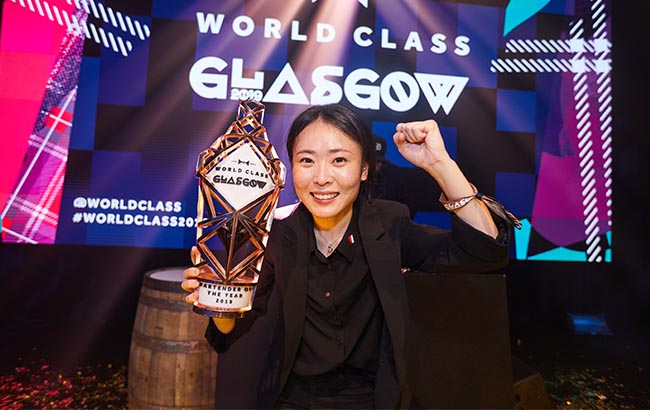 *This feature was originally published in the January 2020 issue of The Spirits Business
The most important thing in a competition is to just be you and to believe in yourself," says Singapore‐based bartender Bannie Kang, who was named winner of the 2019 Diageo World Class cocktail competition.
"Words can't describe how I feel, and how I worked and prepared for the World Class competition. I actually started bartending because of the competition," says Kang.
The 2019 instalment of one of the world's most high‐profile bartending competitions was Kang's third crack at glory. Kang moved to Singapore from her native Korea in 2010, and it was while working here that she was inspired to develop her bartending skills. She entered the contest in 2013 and again in 2014, when she made it through to the final four in the Singapore round.
She says: "Last time I was maybe too young. But with my bartending skills I have slowly found my personal style. Last time I was maybe figuring out what is my own style."
Having found her flow over the ensuing years, and having triumphed in other competitions, including Black Cow Vodka's 2018 Gold Top Cup, Kang returned to World Class in 2019 and took home the trophy.
"Winning World Class has not really changed me," she says. "But I maybe do more interviews now."
CREATING BESPOKE DRINKS
Kang started out in the on‐trade working as a waitress, which she did until her first entry into World Class. She says: "In my first World Class my title was 'waitress', because after that I was promoted to be a bartender."
After gaining the bartender title following the competition, Kang began making cocktails for guests but says she was unable to interact with drinkers until she transferred to Anti:dote in Singapore's Fairmont hotel the following year. "When I transferred to Anti:dote I met Tom Hogan (GM); he pushed me towards the customers and taught me more hospitality," explains Kang. "I felt very shy and my English was very poor then, so sometimes I didn't understand what guests were talking about. I could not continue a conversation, I would always have to stop."
While working with Hogan and the team at Anti:dote, Kang was encouraged to talk with guests to develop her English, and she began creating her own bespoke drinks. "Tom pushed me to talk to customers, but he would be standing right beside me doing something else but listening in," explains Kang. "He was a very good mentor, and was the first person to encourage me to make more bespoke drinks.
He said if I tried making more I would know how flavour and things work. After working at Anti:dote and meeting him, I became a better bartender." Having developed her bartending skills, Kang decided 2019 was the time to return to World Class.
POSITIVE IMPACT
Thousands of bartenders from six continents entered the competition. Following a series of national heats, 53 were put through to the last stage. The global final saw Kang travel to Europe to take part in a number of challenges at the Ketel One Distillery in the Netherlands and the Talisker Distillery in Scotland over four days.
The finalists had to create cocktails that had a positive impact on the environment, mixing drinks from a mystery box of ingredients, and creating a Johnnie Walker 'Highball in a can'.
"My parents were very happy when I told them I had won, because they could see that I was happy and that I had tried to achieve something every year," she says. "They didn't totally know what World Class was about, but I just told them that they had to imagine that Singapore had won the World Cup."
Kang says she will now have the chance to tour the world for a host of guest shifts, masterclasses and other events. She hopes to use the platform to showcase Asian flavours, and encourage more women to step behind the stick. "I want to inspire more women bartenders in Asia, because before winning I had thought that it would be very hard to find ways to do that," she says. "Now I have more people behind me and I can meet some of these new bartenders. It's not just about running a masterclass or guest shift, I want to speak with them."
Since she started working in the on‐trade, Kang has seen the number of women working behind the bar increase – but stresses that there are still people out there who see bartending as "more of a men's club".
"I had some customers or men who would not order their cocktails from me, and also there was somebody touching [me] when I first started, but now that is definitely a no," says Kang. "Customers have changed since I started working in bars; they are a bit more mature and they know what a bartender is."
Having seen cocktail culture in Asia mature alongside her own skills, Kang is now striving to become a mentor and positive influence for new bartenders looking to make a start in the industry.
She says: "I just want to influence how Asian bartenders will grow and, of course, I want to inspire more Asian girls to become bartenders. Not only Asian women because we need more young European women bartenders as well."
Kang hopes that over the coming years she will be able to gain a reputation as someone who is a "great mentor" for the on‐trade.
"I really want to meet more people, and encourage and share with people," she says. "I think that is my life goal. I just want to encourage people because many people texted me after I won World Class and said they wanted to be a bartender, or that they wanted to enter this competition but needed help. I replied to them and now I think I just want to become someone that is a mentor for the industry."
HOLDING THE REINS
Kang formed and trained the team at Anti:dote following the departure of Hogan, and she now finds herself at the reins of a new bar and restaurant that she is opening in Taipei with her husband. The experience will see her develop menus, help in the design of the space and train up the next generation of bartenders who will work there. It is a responsibility she is excited to have once again.
"Some young bartenders, they just wanted to be superstars," explains Kang. "But it doesn't mean that when you win a competition you are the king; that's not true. So I just want to tell young bartenders today how to become, not the best bartender, but how to become the bartender with the best attitude."