A drink with… Thomas Mooney, Westward Whiskey
By Melita Kiely
Thomas Mooney, co-founder and CEO of Westward Whiskey, on channelling the beauty of Portland, Oregon, into single malt whiskey.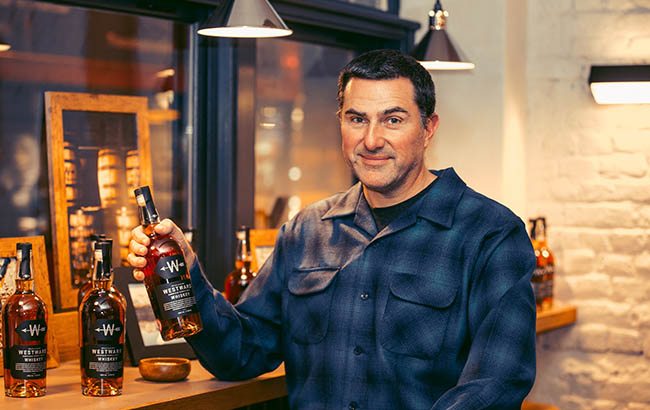 *This feature was originally published in the January 2020 issue of The Spirits Business
What inspired you to start Westward?
The initial driver was around provenance and how do we take everything that's wonderful and of interest in Oregon and the north west, and turn that into a really great whiskey. It's a really majestic and big part of the US; everything is spectacular, massive and bold, and so the climate's unlike any other part of the US too. We have very significant variations between winter and summer, between day and night. So we wanted to create a whiskey that represents all of that. It was a challenge.
Why did you decide to create single malt whiskey?
North America grows barley and most of the highest‐quality barley is within a couple hundred miles from the distillery. We were always going to be different because we were an American whiskey distillery using barley and making single malt whiskey. As people who have loved whiskey before we made our own, we always felt that even brands we have loved put too much emphasis on how the whiskey's aged, and almost no emphasis on what happens up to that point. But some of the most interesting things that give every whiskey its character happen before it ever goes into a barrel. We will always talk more about that part of the process.
How is Westward ensuring American single malts create a point of difference from Scotch?
Around five years ago, we participated in co‐founding the American Single Malt Whiskey Commission to try to establish what American single malt could be. That group grew to more than 100 people who are now members of the commission. If you look at American single malts from a value standpoint, it's the fastest‐growing part of American whiskey, but from a very small base. Something is happening; a lot more people are making American single malts. Whatever the American single malt category is going to be, it hasn't happened yet. The category is big in some ways and nascent in others. We just have to make sure we're not American single malts trying to be Scotch; Scotch is already good at that.
Diageo-backed Distill Ventures invested in Westward last year. How has this helped the brand?
It was a really exciting moment. The reason we wanted to do that is we have a fantastic group of investors. They have supported us every time our dreams got bigger, and plans got bigger and the need for cash got bigger. But our ideas changed so much that all of our effort to provide capital was no longer enough. Getting product to market, especially in the US with the three‐tier system, is really tough. It was never about the money. It was about having a strong route to market. We didn't want to sell the company, we didn't want to partner with somebody who would come in and tell us how it should be because we had clear ideas. We really liked Diageo for our partner; they are the leader in single malt whisky. From a technical side, we can also pick up the phone and ask questions. There hasn't been anything we have asked that they haven't been willing to help us with.
You've just launched in the UK – what are your plans here?
The UK is probably the world's most sophisticated malt whisky market, so a lot of things we do are relevant. It is one of America's largest trading partners, and one of the largest destination markets for spirits. We need consumers to understand who we are. When that happens, if we can make it possible for them to enjoy it at home and in bars, then we win.
What can we expect from Westward in 2020?
We will build on our momentum with a few products, such as single barrel expressions of Westward in the UK. Barrel finishes are probably the next step in terms of line extensions in the UK, but still made in a way that is unique to Westward, and the culture and place of Oregon.