The Rum Masters 2020 results
For drinkers who are curious about this category, or connoisseurs looking for something exciting, our Rum Masters showed there is real depth of flavour in producers' offerings.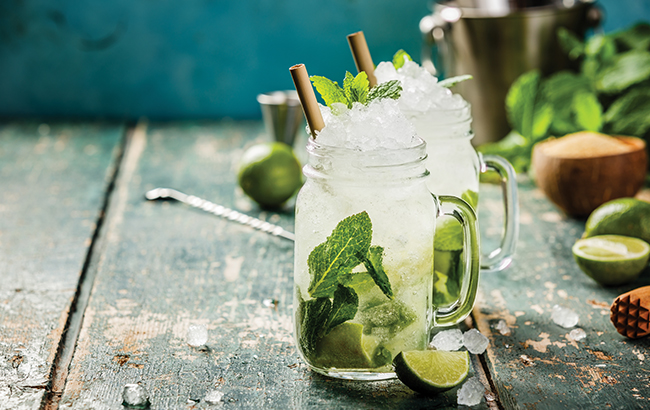 It's no secret that rum has been slower to premiumise than other spirits categories, but the tables are well and truly turning. Rum's popularity is on the rise – and consumers can't get enough.
The UK has shown a particular penchant for this diverse category, with sales topping £1 billion (US$1.3bn) in the 12 months to June 2019. That's according to the Wine and Spirit Trade Association, which also reported that UK consumers bought 35 million bottles of rum during the same period. There's also been an influx of new spiced and flavoured variants hitting the market – a sub‐category that grew by 80% in the UK from 2014 to 2019 to exceed 10m bottles.
Dark rum also looks poised for growth in 2020, with bartenders citing the sub‐category as the spirit most likely to premiumise this year in an on‐trade trends report published by Bacardi last month.
As opportunity knocks, we gathered a group of esteemed spirits tasters to put the rum category through its paces. With such a vast number of entries to sample, the tasting was held over two days. The first round took place at The Leaf and Cane in London. The day's judging was split between four panels.
The first team comprised: Matt Chambers and Karen Taylor, co‐founders of Whisky for Everyone; and me, Melita Kiely, editor of The Spirits Business, who chaired the tasting. Forming the second panel were: Marco Stella, head bartender at the Mandarin Bar in London; Ivan Forcieri, bartender at the Mandarin Bar in London; and chair Antony Moss, qualifications director at WSET.
A third team was made up of: Nicola Carruthers, news, web and social editor at The Spirits Business; Evan Prousaefs, bar manager at The Leaf and Cane; and chair Elise Craft, Whisky Squad co‐ordinator. The fourth panel included Sebastian Woolf, founder and CEO of Woolf Sung; Matt Neal, UK brand ambassador for Uncle Nearest; and chair Bryan Rodriguez, wine and spirits buyer at Harvey Nichols.
Lending their expertise on the second day of the tasting were: Derek Millar, retired whisky retailer; Dan Greifer, bartender at Ladies and Gentlemen in London; and chair Nicola Thomson, director of Fifteen71.
The competition kicked off with a flight of standard white rums, which resulted in a Silver medal for "delicate" Rhum Negrita White Signature.
My panel then sampled a selection of premium white rums, which uncovered a goldmine of winners. Five Gold medals were awarded in this flight, including "zesty, rounded" Havana Club 3; "complex, vanilla" Tanduay Asian Rum Silver; and "well‐ balanced, almost agave‐like" Nusa Caña Tropical Island Rum. Two Silver medals were also awarded in this round.
"There's a really good diverse range here, when you often expect to get a lot of the same at this price point," Taylor said. "There was everything from gin‐like citrus and spice to coconut and vanilla, and the tropical character that you expect."
More medals were awarded in the next price range: super premium. Worthy Park Estate's Rum‐Bar Silver walked away with a Gold for its "salty nose" and "spicy, complex" palate. A second Gold was also given to Havana Club Professional Edition D, which impressed the judges with its "fruit" characteristics. Two Silvers were also presented to Siddiqui White Rum and Havana Club Professional Edition A.
Moss said about the flight: "Some were neutral and vodka‐like, others had pungent agricole character or esteriness. The best showed molasses or cane character, and a soft texture."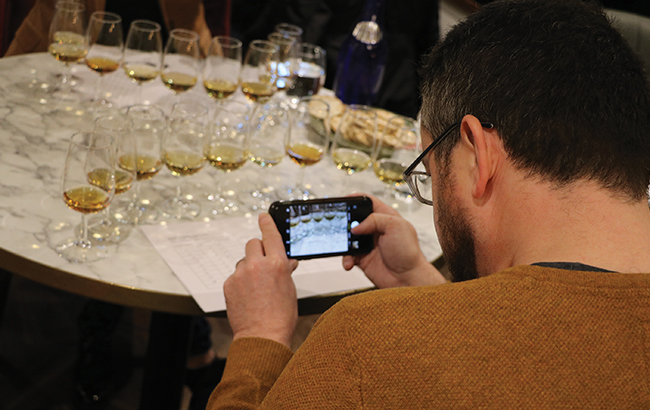 GOING FOR GOLD
Onto the Gold Rum – Premium flight, and the first Master medal of the day was given to. Penny Blue VSOP for its "oily, waxy nose with wood smoke, a little generic tropical fruit" and "dry vanilla pod". Rodriguez said of this rum: "The palate has a lovely smoothness to it and a rich mouthfeel. The flavours match the nose with rich vanilla pod, tropical fruits and waxy mouthfeel. Very nice."
A Gold medal was also given to Tanduay Asian Rum Gold, while two Silvers went to Angostura 5 Year Old and Angostura 7 Year Old. "The category has shown potential for a higher‐ABV offering," noted Rodriguez of the overall flight. "The category is playing safe and aiming at entry‐level rum drinkers. There's quite a gulf between quality levels, but with one Master, there is potential for higher quality at lower price points."
A hefty flight of super‐premium gold rums was put under the spotlight next, split between my team and Moss's panel. The round yielded a Master for Hayman Group's Charles Merser & Co, described as "elegant and grassy", and "oak‐dominant". A whopping 11 Golds were also awarded, with winners including: "complex, balanced" Black Tot Tum with its "spice, raisins and tannins" on the palate; and Plantation Xaymaca Special Dry with notes of "fruit syrup" and "cinnamon". Berry Bros & Rudd took home four Golds for its Classic Range, featuring expressions from Guatemala, Barbados, Nicaragua and Jamaica. To add to this, a total of seven Silver medals were also snapped up.
Chambers said: "There were a couple that I was really impressed with; there was lots of depth and interesting things going on. A few were quite safe, so the ones that stood out were those that were going in slightly different directions with different dimensions. You could still be spending under £30 for most of those – and I'd be happy to."
Moss and his judges moved onto a small flight of ultra‐premium gold rums next, awarding a Gold to Worthy Park Single Estate Reserve for its "sweet" notes and "coffee" flavour.
Next, it was time to look at categories by age statements. In a flight of Gold Rum – Aged up to 7 Years, three Gold medals and one Silver were uncovered. Craft's panel enjoyed flavours of "soft caramel and dark treacle" while tasting Cockspur XO, while Plantation Barbados 5 Years was described as "rich, creamy" and "well rounded". Gold medallist Rhum Negrita Añejo Reserve was also praised for its flavours of "light apple strudel" and "orange rind". A Silver was also awarded to Rum‐Bar Gold Rum, which was said to be "quite savoury". Overall, Prousaefs said this was a "diverse flight".
The dark rums began with a flight of premium expressions, in which a Master medal was given to Plantation Original Dark. On the nose, judges picked out hints of "caramelised fruit" and "oak", leading to hints of "guava" and "warm ginger" on the palate. A Gold also went to Don Papa Sherry Cask with flavours of "gooseberries and dry spices", while four Silvers were also awarded.
In the Dark Rum – Super Premium contingent, another Master medallist showed its worth: Naud Ron 15 Years Old Panama. Craft's team found this rum to be "gorgeous, creamy" with "dark sugars, fruit and banana cream". Carruthers said about the rum: "I don't know how anyone couldn't like that; very good balance."
Ron Reserva 22 Ańejo received a Gold for its aroma of "green banana leaves" and "sugarcane on the finish". Havana Club Professional Edition B also won a Gold, hailed for its flavours of "spice cake and biscuits". Overall, Craft said: "We'd be very happy to buy most of these. I would drink [Naud Ron 15 Years Old Panama] all day long."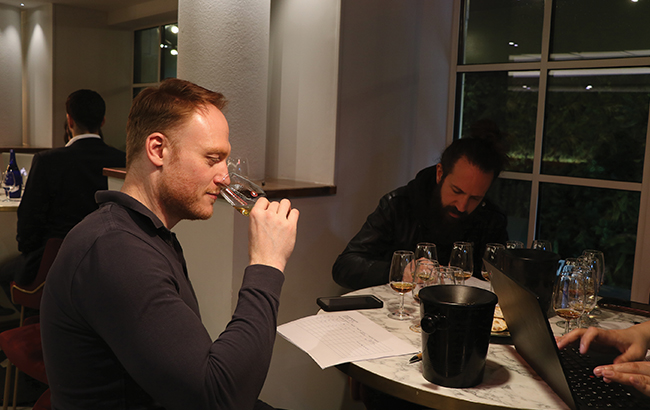 MARMALADE AND LEMON ZEST
Colombian rum La Hechicera Reserva Familiar scooped a Master medal in the Dark Rum – Ultra Premium flight. The nose was said to have aromas of "marmalade and lemon zest", contrasting with "cloves" on the finish.
The brand's latest innovation, La Hechicera Serie Experimental No. 1, also received a Gold, described as a "full‐on Sherry bomb of a rum". Golds were also awarded to Ron de Jeremy XXXO, Angostura 1787, Havana Club Selección de Maestros, and Plantation XO 20th Anniversary.
Neal said: "This is an emerging category that is growing, with great distillers and blenders experimenting. There's lots to discuss and try. There are some great whisky‐drinker rums that show great cask use and barrel use."
Stepping away from price to focus on age statements, and the Masters kept on coming. In the Dark Rum – Aged 7 to 12 Years round, the top award went to Rum Sixty Six Family Reserve 12 Years Old Rum, said to have a "gorgeous, classic nose" filled with aromas of "raisins, caramel, oak and some grassiness". Two Golds were also dished out in this flight.
"The medals show consistency of quality, but in terms of style they're all quite different," noted Chambers. "There were some really interesting rums that were showing the influence of the wood."
The Master medals continued rolling in as Rodriguez sampled Dark Rum – Aged over 15 Years, with Fraternity Spirits picking up a Master for its Ron Reserva 22 Añejo, which had "chocolate" and "caramel" notes.
The judges' attention then turned to Agricole Rhum, which produced no shortage of Masters. The first of two in this round went to Trois Rivières – Cuvée de l'Océan. Thomson and her team found this to be "full on raspberry, crème brûlée, fresh and delicious, and balanced".
A STRONG FLIGHT
A second Master was handed to Rhum Depaz – Rhum Blanc Agricole, with its "creamy, lychee nose, with hints of sour cherries", said to be "enhanced with macerated strawberries and a hint of glacier cherry". A strong flight, this round also produced four Gold medallists. "This was an incredibly well‐developed flight with the traditional agricole flavours coming through," said Greifer. "The Masters integrated a high ABV in a way that enhanced the flavours in the rum, rather than hindered them." Millar was equally full of praise for this round. "There were some impressive aromas, which were then backed up on the palate, and some juicy fruit flavours – raspberry, blackberry, but with the complexity of sherbet notes too," he said.
As the panel progressed from white agricole expressions to aged agricole variants, so did the quality of the entrants. Three expressions took home a well‐deserved Master medal, including Trois Rivières – 12 Ans. Thomson and her fellow judges noted this rum had a "soft, mellow nose with a hint of hazelnut, marshmallow". The palate brought about flavours of "bitter cocoa enhanced by milk chocolate frappuccino, and nectarine".
Trois Rivières – Cask Strength also went away with a Master in this flight, and was celebrated for its "fresh tropical palate, long length highlighting pineapple and baked sweet potato, with cumin and cinnamon".
Completing the Master haul in this flight was Rhum Depaz – Très Vieux Rhum Agricole VSOP. The judges found flavours of "baked lemon tart" and "brioche", as well as "sour cherries and mandarin syrup". This bumper heat also revealed nine Golds and two Silvers.
Millar said: "Again, this was a well‐crafted flight of aged agricole. Dense fruit flavours were apparent on the noses of most entries. [Trois Rivières – 12 Ans] had a real complex nose, with pineapple and coconut apparent. The palate lived up to the initial nose and followed through to a well‐rounded finish – a worthy Master. Overall, very impressive."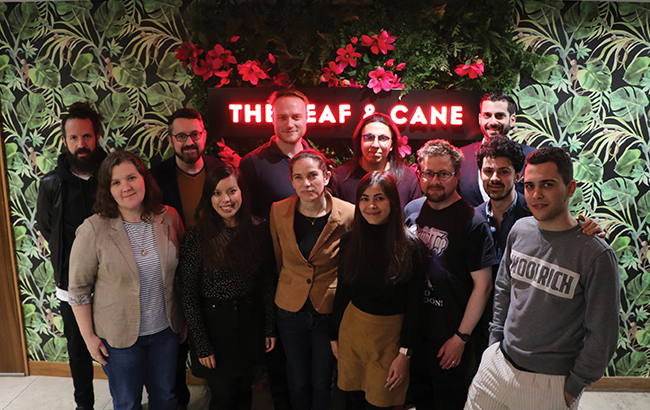 A flight of spiced rums were split between my panel and Thomson's, with Thomson's team awarding a Master to Five Hundred Cuts Botanical Rum by BrewDog Distilling Co. The spiced expression delivered an impressive hit of "warm coffee and nutmeg, hints of Parma Violet and spiced lavender" with "black pepper and cardamom". Five Golds and five Silvers were also awarded to 10 commendable spiced variants. Among the Golds were Maison la Mauny – Rhum Spice, Nusa Caña Spiced Rum and Dead Man's Fingers Spiced Rum.
"Consumers are going for spiced, and it's no longer just a couple of brands [producing them]," said Chambers. "Producers are seeing a niche to experiment in. Rather than just traditional spice, we're seeing citrus, white, gold and aged rums. The only trouble is that if you're looking for spiced, you can't actually guarantee what you're going to get as there's no clear definition – but there was a great range of spiced rums here today."
VIBRANT AROMA
Four Golds and a Silver were awarded in the Flavoured/ Infused Rum round. Rum Ting Premium Flavoured Rum, made with passionfruit, mango and elderflower, was one of the Gold recipients. My panel enjoyed its "vibrant, fresh, fruity" aroma and "juicy, slightly bitter" contrasting finish.
The flight demonstrated how producers are building on this increasingly popular trend with quality offerings. However, the judges felt there was still room for improvement. "There was good integration of flavours, but the rum aspect didn't shine through," said Taylor. "You want the power of the spirit but also the flavour to come through. There was definitely quality in this round, though, and it showed people can experiment successfully. Very impressive as a flight."
Taking a sweet turn, a flight of Rum Liqueurs was set before the judges next. Worthy Park Estate took home a Master for its Rum‐Bar Rum Cream expression, described as "perfection". "Exactly what you'd dream of in a rum cream liqueur," said Craft. "Natural cream flavour and a gorgeous finish. Very, very drinkable."
Arrangé Banane Flambée also received a Master, described as "beautifully balanced", with "banana foam sweets" contrasting more natural notes of "fresh banana bread". Craft added: "There were a few bright lights here, but also inconsistency. The banana Master showed that a little more craftsmanship can elevate a liqueur."
From sweet to high‐strength, next to pass judges' lips was a small flight of white overproof rums. Two Golds were given to "grassy, fresh" Liv Navy Strength White Rum and "vegetal, spicy" Rum‐Bar White Overproof Rum. "These were nice examples of overproof rum," noted Carruthers. "They stick out on their own, and so they should. For the ABV, they're not harsh, and in a way they were soft and easy to drink."
The penultimate flight of Rhum Agricole – Overproof offered up the final Master of the competition: Maison La Mauny – Acacia. Thomson said this had "great acidity and long length". Meanwhile, "balanced, laid‐back" Maison La Mauny – Rhum Blanc Agricole 50° received a Silver.
In the final round, Plantation OFTD proved itself worthy of a Gold medal for having notes of "Cajun, black pepper, cinnamon" and for being "well‐balanced with amazing acidity".
Concluding The Rum Masters, as always, was a retasting of the Master winners to decide the 'best in class' Taste Master of 2020. Taking home the highly coveted accolade was Rum Sixty Six Family Reserve 12 Year Old Rum.
Rum's reputation is on the rise – and this year's Rum Masters proved there is much for the trade and consumers to be excited about in this category. As Craft noted: "When you think of the complexity of rum production, the countries all doing their own thing, distillation processes, all of the permutations of how rum can and does get made, it will be interesting to see what happens as the category truly starts booming, and how producers will differentiate themselves."
Click through the following pages for the full list of medal winners in this year's Rum Masters. 
White Rum – Standard
| Brand owner | Product name | Medal |
| --- | --- | --- |
| Bardinet | Rhum Negrita White Signature | Silver |
White Rum – Premium
| Brand owner | Product name | Medal |
| --- | --- | --- |
| Tanduay Distillers | Tanduay Asian Rum Silver | Gold |
| Havana Club International | Havana Club 3 | Gold |
| Island Beverages | Nusa Caña Tropical Island Rum | Gold |
| Angostura Limited | Angostura Reserva | Gold |
| Plantation Rum | Plantation 3 Stars | Gold |
| 7 Sins Drinks | 7 Sins 'Greed' Rum | Silver |
| Halewood Wines & Spirits | Rum Sixty Six English White Rum | Silver |
White Rum – Super Premium
| Brand owner | Product name | Medal |
| --- | --- | --- |
| Worthy Park Estate | Rum‐Bar Silver | Gold |
| Havana Club International | Professional Edition D | Gold |
| Havana Club International | Professional Edition A | Silver |
| Penderyn Distillery | Siddiqui White Rum | Silver |
Gold Rum – Premium
| Brand owner | Product name | Medal |
| --- | --- | --- |
| Indian Ocean Rum Company | Penny Blue VSOP | Master |
| Tanduay Distillers | Tanduay Asian Rum Gold | Gold |
| Angostura Limited | Angostura 5 Year Old | Silver |
| Angostura Limited | Angostura 7 Year Old | Silver |
Gold Rum – Super Premium
| Brand owner | Product name | Medal |
| --- | --- | --- |
| Hayman Group | Charles Merser & Co | Master |
| Elixir Distillers | Black Tot Rum | Gold |
| BBC Spirits | Bocathéva – Panama | Gold |
| BBC Spirits | Bocathéva – Vénézuela | Gold |
| BBC Spirits | Bocathéva – Barbados & Jamaique | Gold |
| Pirate's Grog Rum | Pirate's Grog Five Year | Gold |
| Berry Bros & Rudd | Berry Bros & Rudd Classic Range Guatemala Rum | Gold |
| Berry Bros & Rudd | Berry Bros & Rudd Classic Range Barbados Rum | Gold |
| Berry Bros & Rudd | Berry Bros & Rudd Classic Range Nicaragua Rum | Gold |
| Berry Bros & Rudd | Berry Bros & Rudd Classic Range Jamaica Rum | Gold |
| Pedro Mandinga | Pedro Mandinga Blended Rum | Gold |
| Plantation Rum | Plantation Xaymaca Special Dry | Gold |
| Neptune Rum | Neptune Rum Barbados Gold | Silver |
| Havana Club International | Professional Edition C | Silver |
| Woodland Radicle | Cockspur Old Gold | Silver |
| Britannia Treasures | Sir Ranulph Fiennes' Great British Rum | Silver |
| Angostura Limited | Angostura 1919 | Silver |
| Brand Exchange | Mainbrace Rum | Silver |
| Fraternity Spirits | El Ron Prohibido Reserva | Silver |
Gold Rum – Ultra Premium
| Brand owner | Product name | Medal |
| --- | --- | --- |
| Worthy Park Estate | Worthy Park Single Estate Reserve | Gold |
Gold Rum – Aged up to 7 Years
| Brand owner | Product name | Medal |
| --- | --- | --- |
| Woodland Radicle | Cockspur XO | Gold |
| Plantation Rum | Plantation Barbados 5 Years | Gold |
| Bardinet | Rhum Negrita Añejo Reserve | Gold |
| Worthy Park Estate | Rum‐Bar Gold Rum | Silver |
Dark Rum – Premium
| Brand owner | Product name | Medal |
| --- | --- | --- |
| Plantation Rum | Plantation Original Dark | Master |
| Bleeding Heart Rum Company | Don Papa Sherry Cask | Gold |
| Sazerac Company | Myers's Original Dark Rum | Silver |
| Aldi Stores UK | Crossbones Premium Dark Rum | Silver |
| Penderyn Distillery | Siddiqui Brown Rum | Silver |
| Havana Club International | Havana Club Añejo Especial | Silver |
Dark Rum – Super Premium
| Brand owner | Product name | Medal |
| --- | --- | --- |
| Famille Naud | Naud Ron 15 Years Old Panama | Master |
| Havana Club International | Professional Edition B | Gold |
| Fraternity Spirits | Ron Reserva 22 Añejo | Gold |
| Tanduay Distillers | Tanduay Double Rum | Silver |
Dark Rum – Ultra Premium
| Brand owner | Product name | Medal |
| --- | --- | --- |
| La Hechicera Company | La Hechicera Reserva Familiar | Master |
| La Hechicera Company | La Hechicera Serie Experimental No. 1 | Gold |
| One Eyed Spirits | Ron de Jeremy XXXO | Gold |
| Angostura Limited | Angostura 1787 | Gold |
| Havana Club International | Havana Club Selección de Maestros | Gold |
| Plantation Rum | Plantation XO 20th Anniversary | Gold |
Dark Rum – Aged 7‐12 Years
Brand owner
Product name
Medal
Halewood Wines & Spirits
Rum Sixty Six Family Reserve 12 Year Old Rum
Master &
Taste Master
Brands for Fans Sweden
Motörhead Premium Dark Rum
Gold
Havana Club International
Havana Club 7
Gold
Dark Rum – Aged over 15 Years
| Brand owner | Product name | Medal |
| --- | --- | --- |
| Fraternity Spirits | Ron Reserva 22 Añejo | Master |
| Havana Club International | Havana Club 15 | Gold |
| Fraternity Spirits |  El Ron Prohibido Gran Reserva | Silver |
Rhum Agricole
| Brand owner | Product name | Medal |
| --- | --- | --- |
| Groupe BBS | Trois Rivières Cuvée de l'Océan | Master |
| Bardinet | Rhum Depaz – Rhum Blanc Agricole | Master |
| Groupe BBS | Maison la Mauny – Rhum Blanc Agricole 50° | Gold |
| Groupe BBS | Trois Rivières – Cuvée Mojito & Long Drink | Gold |
| Groupe BBS | Maison la Mauny – Rhum Blanc Agricole 40° | Gold |
| Premium Thai Brands Co | Chalong Bay Rum Pure Series | Gold |
Rhum Agricole Aged
| Brand owner | Product name | Medal |
| --- | --- | --- |
| Groupe BBS | Trois Rivières – 12 Ans | Master |
| Groupe BBS | Trois Rivières – Cask Strength | Master |
| Bardinet | Rhum Depaz – Très Vieux Rhum Agricole VSOP | Master |
| Groupe BBS | Trois Rivières – VSOP | Gold |
| Groupe BBS | Trois Rivières Triple Millésime 1999‐2000‐2009 | Gold |
| Groupe BBS | Maison la Mauny Extra | Gold |
| Groupe BBS | Maison la Mauny – XO | Gold |
| Groupe BBS | Trois Rivières – VO – Cuvée du Moulin | Gold |
| Groupe BBS | Trois Rivières – Rhum Ambré Agricole | Gold |
| Groupe BBS | Maison la Mauny – VSOP 40° | Gold |
| Groupe BBS | Maison la Mauny – Héritage 1749 | Gold |
| Groupe BBS | Maison la Mauny – Rhum Ambré Agricole | Gold |
| Groupe BBS | Maison la Mauny – VO Signature de Maître de Chais | Silver |
| Groupe BBS | Trois Rivières – Rhum Ambré Whisky Finish | Silver |
Spiced
| Brand owner | Product name | Medal |
| --- | --- | --- |
| BrewDog Distilling Co | Five Hundred Cuts Botanical Rum | Master |
| Aldi Stores UK | Sea Dog Premium Spiced Rum | Gold |
| Island Beverages | Nusa Caña Spiced Rum | Gold |
| Groupe BBS | Maison la Mauny – Rhum Spice | Gold |
| Rhum et Punch iSautier | Arrange Gingembre Citron | Gold |
| Halewood Wines & Spirits | Dead Man's Fingers Spiced Rum | Gold |
| Warner's Distillery | Rooted Rum | Silver |
| Pirate's Grog Rum | Pirate's Grog Spiced | Silver |
| Plantation Rum | Plantation Stiggins' Fancy Pineapple | Silver |
| The Salford Rum Company | Dark Spice | Silver |
| Bardinet | Negrita Spiced Golden | Silver |
Flavoured/ Infused
| Brand owner | Product name | Medal |
| --- | --- | --- |
| GinTing | Rum Ting Premium Flavoured Rum | Gold |
| Halewood Wines & Spirits | Dead Man's Fingers Hemp Rum | Gold |
| Halewood Wines & Spirits | Dead Man's Fingers Coconut Rum | Gold |
| Halewood Wines & Spirits | Dead Man's Fingers Coffee Rum | Gold |
| Groupe BBS | Maison la Mauny – Ananas 40° | Silver |
Rum Liqueurs
| Brand owner | Product name | Medal |
| --- | --- | --- |
| Rhum et Punch iSautier | Arrangé Banane Flambée | Master |
| Worthy Park Estate | Rum‐Bar Rum Cream | Master |
| Rhum et Punch iSautier | Arrange Goyave Rooibos | Silver |
| Rhum et Punch iSautier | Arrange Letchi Passion | Silver |
| Pedro Mandinga | Pedro Mandinga Coffee Rum | Silver |
| Les Rhums de CED | Ti Arrangé de Ced BIO Ananas Passion | Silver |
| Les Rhums de CED | Ti Arrangé de Ced Graal Citron Passion | Silver |
| Bardinet | Negrita Rum Cream | Silver |
White Rum – Overproof
| Brand owner | Product name | Medal |
| --- | --- | --- |
| Matugga Distillers | Liv Navy Strength White Rum | Gold |
| Worthy Park Estate | Rum‐Bar White Overproof Rum | Gold |
Rhum Agricole – Overproof
| Brand owner | Product name | Medal |
| --- | --- | --- |
| Groupe BBS | Maison la Mauny – Acacia | Master |
| Groupe BBS | Maison la Mauny – Rhum Blanc Agricole 50° | Silver |
Dark Rum – Overproof
| Brand owner | Product name | Medal |
| --- | --- | --- |
| Plantation Rum | Plantation OFTD | Gold |