Glenfarclas: a brand history
By Tom Bruce-Gardyne
Glenfarclas has always done things its own way. While rivals have been snapped up over the years, the Speyside distillery believes that being independent and family-owned is why it is still going strong.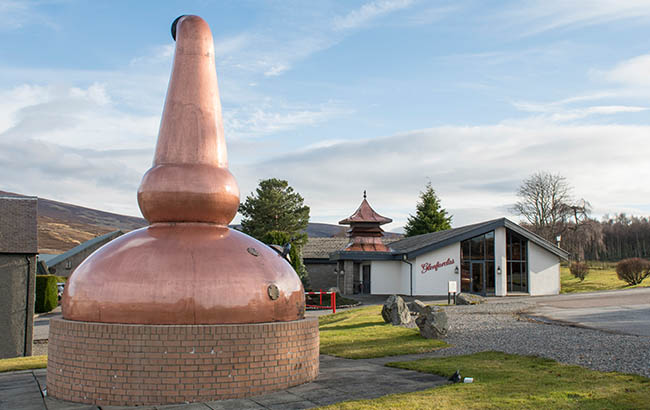 *This feature was originally published in the December 2019 issue of The Spirits Business
Surrounded by open farmland beneath the barren, hump‐backed slopes of Ben Rinnes in Speyside, Glenfarclas can seem like a lonesome place to make whisky. But for its large number of warehouses, from a distance it looks more like a farm steading than a distillery, and for much of its history the farm mattered more than the whisky.
Asked when that changed, sales director George Grant smiles. "Oh, about 1990," he says, and he's only half joking. "It really has been in the past 30 years that it has become a serious business." Whisky was a sideline project in 1865 when his ancestor, John Grant, bought the Recherlich Farm and its distillery, established by a previous tenant 30 years earlier. Glenfarclas was valued at just £511, and for the next two decades it was run by a local distiller, John Smith.
While these farmyard roots are not uncommon among whisky distilleries, in an industry dominated by corporate giants Glenfarclas is almost unique in that it remains independent and is owned by the same family. Representing the sixth generation, George Grant claims family ownership speeds up decision‐making no end. "You can be much more fleet of foot and more fluid," he says. "And it gives a face to the brand."
COMMITMENT TO THE BRAND
Bottles of Pure Old Glenfarclas‐Glenlivet were being shipped to the US as early as 1887, but the commitment to build a single malt brand happened more than a century later. "In 1952, 96% of what we were making was sold to blenders and it's been a slow adjustment since," he says. Now, around two‐thirds of production is bottled as Glenfarclas.
Soon after that first US export the family rebuilt the distillery with the help of the Pattison Brothers of Leith, who were given a 50% stake in the business. Pattison was one of the biggest blenders around and when it went bust in 1898, it gave the whisky industry the worst hangover in its history. The crash caused a chain reaction that toppled a string of whisky firms, but amazingly not Glenfarclas. "It took us a generation to get back on an even keel," says Grant. "We basically lost 50‐60 years, but from that point on we realised we would never go into partnership with anyone else again."
He credits his grandfather, George S Grant, as being the first to begin laying down stocks, in the 1950s: "He said if we wanted to survive as an independent company, we needed to start putting more bottles out there with the name Glenfarclas on them."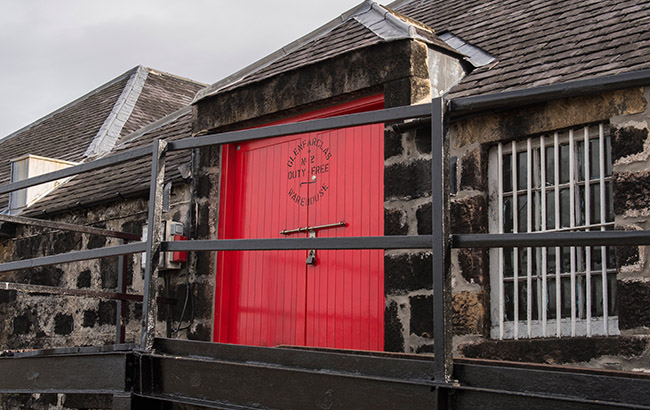 The practice of selling new fillings to blenders who pay within 28 days is great for cash flow, but not for brand building. In the UK, Glenfarclas 10‐year‐old became the mother brand, though Grant says: "The UK market has always been so fickle and controlled by the supermarkets." Today, 95% of Glenfarclas is exported to more than 90 markets, and the great majority of its importers are also family‐run and thus kindred spirits, including Sazerac, which has been the brand's US agent for 27 years.
Referring to the decades of overproduction and the whisky loch that followed, he says: "There was a massive crash in the early 1980s when 16 distilleries went out of business." Again, you wonder how Glenfarclas survived given its dependence on blending. Yet, as Alan Gray, the independent analyst and author of the Scotch Whisky Industry Review, points out, it was UK interest rates oscillating around 10% and 15% between 1972 and 1992 that really squeezed the industry.
Luckily, Glenfarclas wasn't too beholden to the banks and carried on distilling through the lean years. That can't have done much for cash flow – but there was a silver lining. "By the 1990s it was like 'Wow! We've got all this amazing stock in the warehouse'," says Grant. "There was a sense that as we didn't have to sell it, why not wait to see what was going to happen." Things turned out well, given the industry's shortage of well‐aged casks.
It was perhaps more by luck than design that Glenfarclas is now blessed with an enviable stash of matured whisky, allowing it to list a full range of single malts at 10, 12, 15, 17, 21, 25, 30 and 40 years old. Others have had to launch countless no‐age‐statement (NAS) whiskies and pretend it had nothing to do with gaping holes in their inventories, and was all about unleashing the creative juices of their master distiller.
Grant believes age is the only credible explanation for why a particular whisky should cost so much more than another. "To tell me that one's called Sienna and another's called Terra isn't going to cut it," he says, referring to two of Macallan's NAS whiskies. If there's a rivalry with the distillery's famous Speyside neighbour, it may be down to Sherry. Macallan's original insistence on using only Sherry casks was a powerful marketing tool. Glenfarclas has always matured its whisky in such casks, but never got the credit.
NO-NONSENSE APPROACH
Glenfarclas is a different beast. Instead of Lalique decanters it takes a no‐nonsense approach to packaging, with simple labels that have barely changed in years. The pricing is equally down to earth, with bottles of Glenfarclas 30‐year‐old costing less than a third of what you'd pay for a Macallan five years younger.
That said, the annual Family Cask release can cost more, especially if you buy the full set of 50. Launched last December, the Glenfarclas Family Cask Trunk, with 200ml bottles from every year from 1954 to 2003, was priced at £100,000 (US$130,000), or nearly 200 times what John Grant paid for the distillery. Even with inflation, it shows how far Glencarclas has come.
Click though the following pages to see a timeline of Glenfarclas.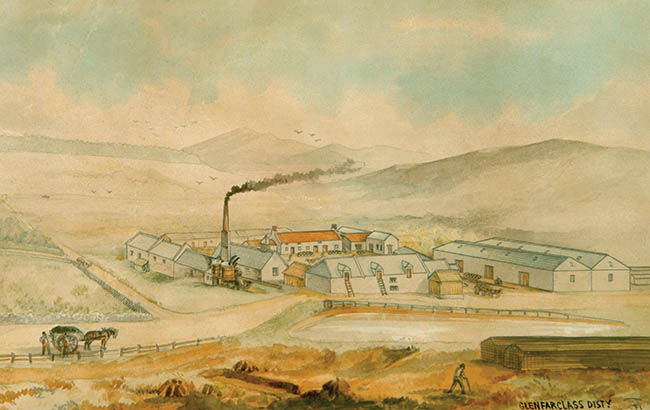 1836 – Robert Hay begins distilling whisky on his farm
1865 – John Grant buys the farm and the Glenfarclas distillery
1898 – The distillery is rebuilt
1960 – The number of stills doubles to four
1973 – Glenfarclas opens one of the first distillery visitor centres
1976 – Two more stills are added
2007 – The Family Cask collection is launched