Diageo debuts new Jane Walker bottling
By Nicola Carruthers
Drinks giant Diageo has kick-started its Craftswomen programme with the launch of two limited edition Johnnie Walker and Bulleit whiskies, including a new Jane Walker bottling.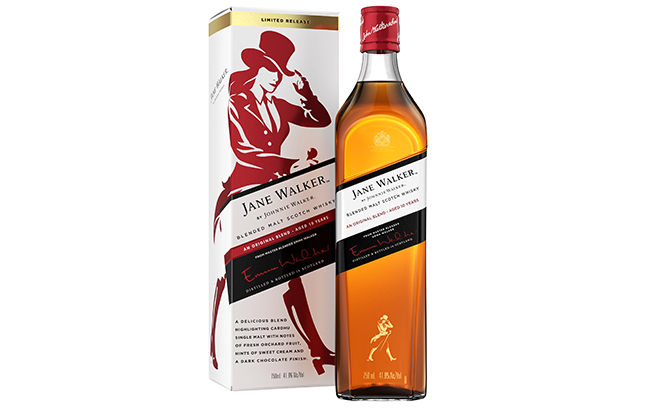 Diageo's Craftswomen programme aims to celebrate the "talented, bold and pioneering women" behind its spirits production.
The initiative highlights the talents of Johnnie Walker master blender Emma Walker; Bulleit blender Eboni Major; Crown Royal master whisky blender Joanna Scandella; Ron Zacapa master blender Lorena Vasquez; Buchanan's master blender Maureen Robinson; Cascade Hollow general manager and distiller, Nicole Austin, and many others.
Diageo has also partnered with biannual magazine Cherry Bombe to connect with trailblazing women across the food and drinks world through a podcast tour.
To coincide with the launch of Craftswomen, Diageo has released a new Jane Walker by Johnnie Walker bottling, following the launch of the 2018 release. The new blend was created by Emma Walker and is made with liquid from Speyside distillery Cardhu. Diageo said Elizabeth Cumming, who owned the Cardhu distillery during the late 19th century, "played a significant role in the brand's history".
The new whisky is said to have notes of ripe orchard fruit and white peaches, which develop into hints of baked apple and sweet cream, with a lingering dark chocolate finish.
"Jane Walker by Johnnie Walker is a celebration of the pioneering women who stretched boundaries throughout the history of Johnnie Walker, and the whisky is an excellent example of the depth of flavour and innovative blends we can create from our incredible reserves," said Walker.
Bottled at 41.9% ABV, Jane Walker by Johnnie Walker is priced at US$38 per 750ml.
Johnnie Walker will also launch an industry programme and event series under the Craftswomen platform to support more female entrepreneurs across food and drink. Diageo will reveal further details in the coming months.
Bulleit innovation
In addition, Major has created the new Bulleit Bourbon Blenders' Select No. 001, which contains three out of the 10 whiskey types used to make the original Bulleit.
It is described as having notes of vanilla bean, honey, dried fruit and toasted oak, followed by a smooth finish with sweet cream and fruit wine decadence.
The Bourbon is the first offering in the new limited edition Blenders' Select series, which allows the blending team to experiment in the lab at Bulleit Distilling Co in Lawrenceburg, Kentucky.
"Bulleit is a frontier whiskey, meaning we are always looking for new ways to challenge convention," explained Major. "Being given the creative freedom to take the traditionally higher rye experience that Bulleit is synonymous with and craft something brand new is an incredible honour and is also what makes my job so fun.
"Fruit-forward, rich and delightfully complex, Bulleit Bourbon Blenders' Select No. 001 is a true expression of who I am as a blender. I am thrilled to be taking risks and pushing boundaries at Bulleit and in the world of whiskey alongside other women who are also making waves in the industry."
The new 50% ABV Bourbon has an RRP of US$49.99.