Lough Neagh Distillers to 'ramp up growth plans' after US listing
By Owen Bellwood
Northern Ireland's Lough Neagh Distillers has signed a six-figure deal to launch its Irish gin and whiskey range in the US, and is seeking further investment in 2020.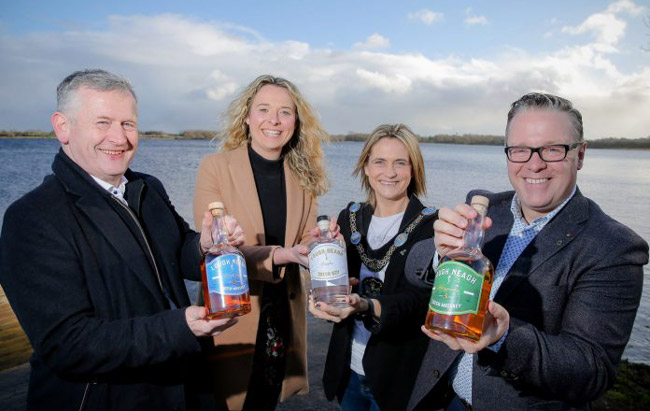 Launched 15 months ago by Irish entrepreneur Vernon Fox, Lough Neagh Distillers will now sell its 18-year-old Coney Island, six-year-old O'Neill's Tower and three-year-old Ferryman's Irish whiskeys across 100 retailers in Pennsylvania.
The deal, agreed with the Pennsylvania Liquor Control Board, will see the distiller's first products launch in the US from May 2020. Lough Neagh Distillers is targeting exports of 20,000 cases by 2023.
The brand's US breakthrough was made during a recent trade mission organised by Armagh City, Banbridge and Craigavon (ABC) Borough Council. The three-day trade mission saw 10 companies from the region travel to the US to seek out export contacts, build relationships and secure new deals.
Fox said: "This transformational US deal realises our ambitions and means immediate expansion and renewed investment to scale up our operations at home.
"The ABC Council trade mission has been a game-changer for our company. Having secured approval from the Pennsylvania Liquor Control Board to sell our products in their jurisdiction, we're now able to ramp up our growth plans by 18 to 24 months.
"During the visit, we also met with senior delegates from the Irish American Business Chamber & Network, who are helping us to open new doors and markets. We're in a strong position and we're only getting started."
Investment opportunity
Having recently secured premises, the company will also begin distilling on-site at its own brewery and distillery in Lurgan, County Armagh. The site is due to open in July 2020.
The producer also plans to create a visitor experience at its distillery, which is located on the shores of Lough Neath.
Lurgan and the area around the southern shores of Lough Neagh during the 1800s were hubs for brewing and distilling. It was also home to one of Ireland's largest distillers at the time, Greer's Distillery, which burnt down in 1837.
Fox added: "We want to bring that tradition and story back, create new jobs in the area, revive the craft and build a global name in the production of quality spirits and beers with our new, exciting and compelling brand.
"We plan to open investment opportunities in 2020 to allow people to share in our growth and success and also be part of our unique brand concept. The support which ABC Council has already provided is invaluable and we look forward to continue working with them as we grow our business further."