Sherry cask-finished Bacardi Añejo Cuatro debuts in GTR
Bacardi has released two travel retail-exclusive expressions: a 39-year-old Craigellachie bottling and a Bacardi Añejo Cuatro rum finished in Sherry casks.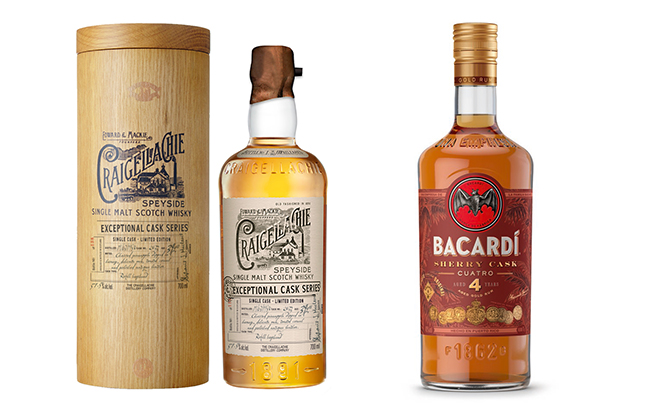 The Craigellachie 39 Year Old Single Cask Scotch whisky is available exclusively at Heathrow Airport in London. It is the oldest and rarest Craigellachie bottling available to buy.
Distilled in 1980, the whisky was laid down in a refill Bourbon hogshead. Malt master Stephanie MacLeod selected the whisky for its notes of "delicate oak, charred pineapple and toasted cereal".
Bottled at 51.5% ABV, there are 138 bottles of the whisky available from World Duty Free stores across all terminals at Heathrow. The expression is priced at £3,500 (US$4,580) per 700ml.
Those who purchase the bottling will be entered into a competition to win a three-day trip to Scotland, which will include a whisky pairing dinner in Edinburgh, a tour of the city's bars and a tour of the Speyside distillery.
In October 2018, Craigellachie launched its oldest whisky to date – 51 bottles of a 51-year-old single malt. The expression was given away for free to whisky fans globally and bottles were not available to buy.
In addition, the new Bacardi Añejo Cuatro Sherry Cask has been released in Heinemann stores across airports in key locations including Amsterdam, Copenhagen, Frankfurt, Istanbul, Sydney and Oslo.
The original four-year-old Bacardi Añejo Cuatro was launched in April 2018.
The 40% ABV rum has been aged under the Caribbean sun for four years before being finished in Sherry barrels. The expression is recommended sipped or in cocktails such as a Bacardi Cuatro Highball or a Bacardi Cuatro Mismo.
It is said to have notes of grape, raisin, wine, molasses, caramel, plum and oak.
Bacardi said that the Caribbean climate accelerates the rum ageing process by approximately three times faster than whisky ageing, but with no reduction in quality. As a result, the rum can be compared to a 12-year old whisky.
Thomas Koch, director international key accounts, Bacardi Global Travel Retail, said: "Building on our heritage as leaders of rum culture for generations, Bacardi is working tirelessly to bring innovation and excitement to the premium rum category in travel retail.
"Exclusivity and differentiation from domestic markets are important purchase motivators for rum enthusiasts in travel retail and we are confident they will be drawn to the Sherry cask finish in this edition of Bacardi Añejo Cuatro."
Bacardi Añejo Cuatro Sherry Cask is priced at €27.90 (US$30) per one-litre bottle.