Powers Irish whiskey unveils new bottle design
By Nicola Carruthers
Irish Distillers has unveiled an updated packaging design for its Powers Irish whiskey range as it seeks to "attract a new generation of drinkers".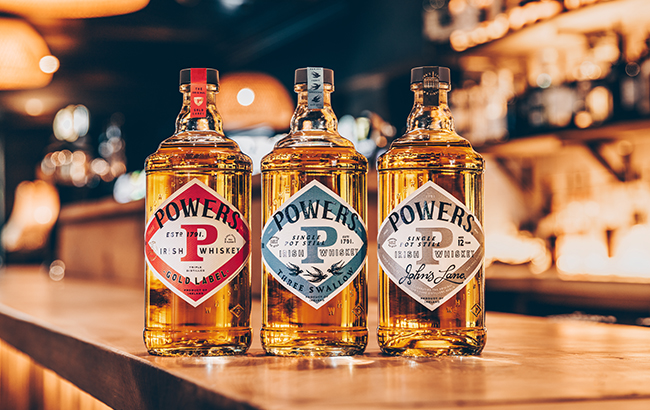 The new design will debut on core expression Powers Gold Label in the US from March 2020. It will also roll out across Powers Three Swallow and Power's John's Lane from mid-2020 in the US and globally from late 2020.
In Ireland, the newly designed Powers Three Swallow and Powers John's Lane will be released in March 2020, with Powers Gold Label to be reviewed in due course.
Conor McQuaid, chairman and CEO of Irish Distillers, said: "We are excited to introduce this new look to the world and inspire a new generation with the unique history and personality of Powers.
"At Irish Distillers, we have pride in Powers as one of the world's leading Irish whiskeys and we welcome this dynamic new chapter for the brand as we seek to continue the Irish whiskey renaissance around the world."
The redesign features a new bottle shape inspired by the pot still silhouette from the brand's home at John's Lane Distillery in Dublin.
In addition, the design will incorporate a diamond-shaped label with a 'P' – one of the first ever trademarks registered in Ireland and a link to Powers' legacy and Irish whiskey history.
Carol Quinn, archivist at Irish Distillers, said: "Powers sense of identity has always focused on the diamond 'P'; that became very clear to me as I worked my way through the historical archive.
"The diamond 'P' was everywhere; on the casks, stationary, on bills and receipts, emblazoned on everything that left the distillery, and notably on the wonderful Powers mirrors that still hang in Ireland's pubs today.
"Workers at the old John's Lane distillery even took to wearing a diamond 'P' pin on their lapel, such was their pride to be part of the Powers family. For me it's wonderful to see the diamond 'P' front and centre on this new label, symbolising all the history of this great whiskey since 1791."
Each whiskey in the Powers range will come with a label in a different colour. Gold Label will feature a red label to mark the original red Powers diamond marque, Three Swallow will come with a blue label to represent the feathers of its namesake bird, and John Lane's Release is depicted in metallic ink to "reflect the industrial innovation" that the Powers family brought to the original distillery.
In November 2019, Irish Distillers unveiled a packaging redesign for its Jameson Caskmates range in response to consumer demand for a "simplified product proposition".