Nikka to discontinue Taketsuru Japanese whiskies
By Owen Bellwood
Japanese whisky brand Nikka has confirmed it will discontinue its Taketsuru Pure Malt 17-, 21- and 25-year-old whiskies, and will replace its no-age-statement (NAS) Taketsuru Pure Malt with a new expression.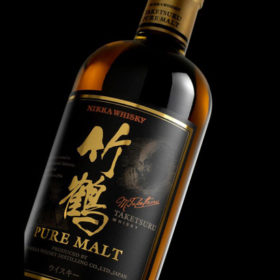 The Asahi Breweries-owned Japanese whisky maker will delist all four whiskies in all markets in March, leaving just a strictly allocated amount of bottles available in select markets.
Emiko Kaji, international business development manager at Asahi Breweries, said: "We, Asahi Breweries Ltd in Tokyo, the parent company of Nikka whisky, would like to inform that we have decided to delist Taketsuru Pure Malt 17-year-old, 21-year-old and 25-year-old, and that Taketsuru Pure Malt (NAS) will also be discontinued with the launch of a new NAS.
"We have been restructuring our portfolio in the past several years to sharpen our brand identify and to secure sustainable growth. Delisting above mentioned expressions is a part of our strategic planning process and will be executed in all markets.
"The products to be discontinued have been highly allocated and the availability depends on the market."
The blended malt whisky brand was named in honour of Nikka founder Masataka Taketsuru. Last year, whisky expert Jim Murray crowned Nikka Taketsuru Pure Malt his Japanese Whisky of the Year.
Nikka isn't the first Japanese whisky brand to discontinue spirits. As demand for the category continues to rise, Suntory announced its plans to discontinue its Hibiki 17 and Hakushu 12, as well as six bottle formats across its Shirokaku, Chita and Kakubin brands.