Most exciting bar openings of 2019
By Owen Bellwood
From Europe to the Americas and as far afield as Asia, a swathe of bar openings have made a memorable impact on the industry over the last 12 months. SB rounds up its favourite new haunts to grace the on-trade.
Last year saw a number of exciting new bars open their doors across the world in cities such as London, New York and Singapore.
Among the venues that made our list were an agave spirits-focused bar in London, acclaimed bar owner Ryan Chetiyawardana's first international outpost in Amsterdam and a "five-star dive bar" in Barcelona.
Click through the following pages to discover our list of the world's hottest new bar openings of 2019.
8. Hacha, London
Diageo Reserve Tequila ambassador Deano Moncrieffe opened the doors to agave spirits‐focused Hacha in May.
Taking over a site in east London, Hacha aimed to be a "destination bar for Tequila lovers and novices alike". Once it opened, the bar quickly gained attention for its perfectly clear Mirror Margarita, which drew drinkers from across the capital to the Dalston drinking den.
As well as the Mirror Margarita, which is available with either Tequila or mezcal, guests at Hacha can sample a menu of reimagined classic agave‐based cocktails, including the Champagne Paloma, made with Tequila, grapefruit, spiced syrup and topped with Champagne.
Hacha also serves a curated selection of agave spirits, each of which are available to order individually or as a tasting flight, served alongside a flavour enhancer such as añejo Tequila with grilled pineapple.
The bar's food selection offers Mexican‐ inspired snacks and sharing plates, including tostaditas, tacos and nachos.
7. Mister Paradise, New York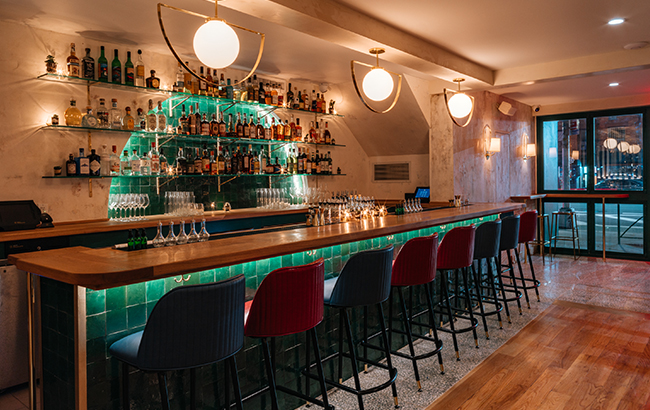 Mister Paradise burst onto the Big Apple's bustling cocktail scene at the start of 2019, hoping to encourage drinkers to be "adventurous and playful" with their cocktail choices.
Created by owner Will Wyatt, and chef and business partner Jeremy Spector, Mister Paradise offers a paired back interior with vibrant flourishes – including a green tiled bar and sand‐toned banquettes that are dotted with succulents.
The bar's "playful yet thoughtful" menu incorporates ingredients such as fermented habanero, garlic, popcorn butter and olive oil in its signature cocktails. Serves on offer at Mister Paradise include Dr Angel Face, made with barley shōchū, fino Sherry, tomato dashi, verjus, absinthe and kinome; and The Corn Ultimatum, which mixes Bourbon, genever, roasted corn, peach, parmesan and lemon.
Alongside a further menu of large format cocktails and shooters, Mister Paradise offers a selection of small plates and side dishes.
6. Idlewild, Singapore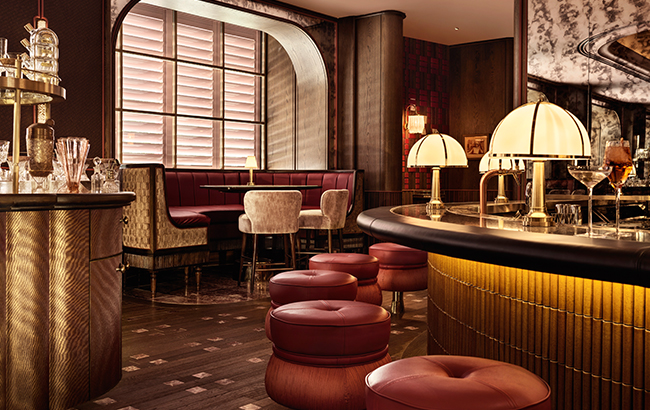 Opening in the heart of Singapore's cultural district in early 2019 was Idlewild. Led by Australian bartender Andy Griffiths, Idlewild features deep reds, polished details and an ornate bar – said to "celebrate the golden age of air travel".
In his role as head of operations and creative, Griffiths has overseen the bar's beverage programme, which features cocktails inspired by destinations around the world.
On the menu, guests will find The French Cook, made with Citadelle Gin, bouquet garni cordial, Chartreuse Genepi, lemon, sparkling wine and absinthe; and the Passage to Havana, which combines Cuban rum, amontillado Sherry, Pedro Ximénez Sherry, Foro Amaro, tobacco tincture, coffee and Angostura Bitters.
The Singapore bar also offers a calendar of live entertainment and a menu of small plates and snacks, including baked filo lamb kofta and mini cannoli.
5. Kwānt, London
Bartender Erik Lorincz opened his first solo venture in May this year – 19th‐century‐style cocktail den Kwānt. Based in London's Heddon Street, the bar was Lorincz's first venture since leaving his role as head bartender of The Savoy's American Bar last year.
Lorincz joined forces with Mourad Mazouz, owner of the three Michelin‐starred Sketch restaurant in London and Andy Wahloo bar in Paris. Kwānt, the phonetic spelling of 'quaint', is described as a "relaxed haven" that pays tribute to "traditional British elegance".
The bar features tropical décor "reminiscent of an eccentric gentleman's drawing room", along with Chesterfield sofas and wooden panelling.
The cocktail menu focuses on Highballs, bespoke glassware and bar‐grown garnishes, including herbs that have been produced in house through Evogro, an all‐ year‐round plant‐growing system.
4. Super Lyan, Amsterdam
Ryan Chetiyawardana, founder of London's acclaimed Dandelyan and Lyaness bars, opened his first overseas outpost in April this year – Super Lyan.
Taking the name of Chetiyawardana's former Shoreditch drinking den, Super Lyan is situated inside the Kimpton De Witt hotel in Amsterdam.
The "all‐day neighbourhood" watering hole boasts a central curved bar, topped with a bright pink neon sign that casts its glow across the whole venue. Chetiyawardana worked with a local team to add his signature sustainable, innovative touch to the venue.
On the menu, imbibers can enjoy re‐imagined classics such as a Moscow Mule made with Ketel One Vodka or Bacardi rum, 'turbo lime', ginger syrup, peach‐habanero and ginger ale.
In addition, there are signature serves such as the Bay Cosmo, which combines Ketel One Vodka, cranberry, bay leaf, lime and pink grapefruit. Super Lyan also spills out onto a courtyard, which opens from early morning until late.
3. Homeboy, London
Homeboy brought modern Irish hospitality to the heart of London when it opened its doors at towards the end of 2018.
The first bar from Irish duo Aaron Wall and Ciarán Smith, Homeboy brings comfort and cocktails together in the best possible way. Designed to feel like a living room, the Islington venue incorporates a wooden bar, exposed brick, tiled details and painted features to create a cosy space.
Since opening, Homeboy has served up a menu of classic cocktails and signature serves, such as the Teaanabiccie, which is made with Roe & Co Irish Whiskey, Benedictine, Barry's Irish Tea, clarified milk and Hobnob syrup; and the Taoiseach, which combines Redbreast 12 Pot Still Irish Whiskey, Cointreau, Martini Rosso, pomegranate syrup, Angostura Bitters and orange.
The bar's Irish Coffee, made with Dead Rabbit Irish Whiskey, is also a hit. As well as a menu of snacks such as toasties and crisp sandwiches, Homeboy also serves a selection of Irish‐influenced dishes including a traditional Irish stew with lamb, carrots, onions and potatoes served with soda bread; and a Full Irish Breakfast containing streaky bacon, black and white pudding, sausages, fried egg and soda bread.
This year, the London bar launched a series of Irish whiskey masterclasses to educate drinkers in the capital about the breadth of the resurgent category.
2. Two Schmucks, Barcelona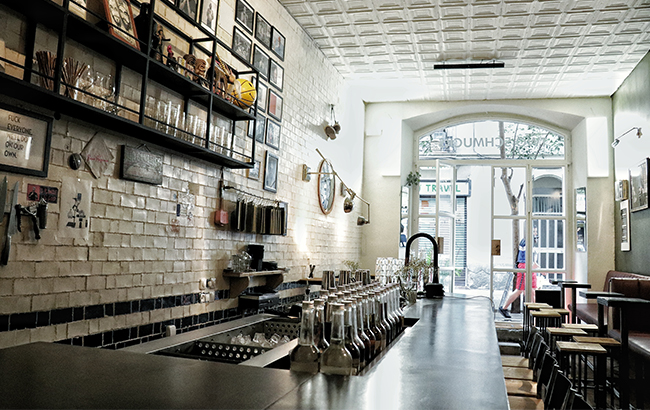 Created by bartenders Moe Aljaff and AJ White, Two Schmucks closed its doors at the start of 2019, but opened again five months later bigger and better than ever.
After an extensive rebuild, Aljaff and White reopened their "five‐star dive bar" in Barcelona's El Raval district in June in an updated space that incorporated high stools and tables, distressed tiling and a hand‐ painted sign out front.
The launch of the refreshed space was accompanied by an updated menu. Guests can sample the ever‐changing Flavour is King drinks list, which will see the bar's team strive to replace 20% of its drinks every two weeks.
Cocktails mixed by the Two Schmucks team so far this year have included: the Skinny Colada, made with white rum, rhum agricole, whey, pineapple, coconut, saline solution, citrus and nutmeg; and the Alpha, which combines Fords Gin, granny smith apple, celery, absinthe, ginger, citrus and saline.
During the refurbishment, Two Schmucks also installed Tap Tails kegged cocktails, which the bar uses to dispense certain drinks, including its signature take on the classic Mojito. Aljaff and White have created a bar they hope will be accepted by their neighbours "while adding something new" to the area. "The Raval is where we belong," says Aljaff.
1. Supernova Ballroom, Toronto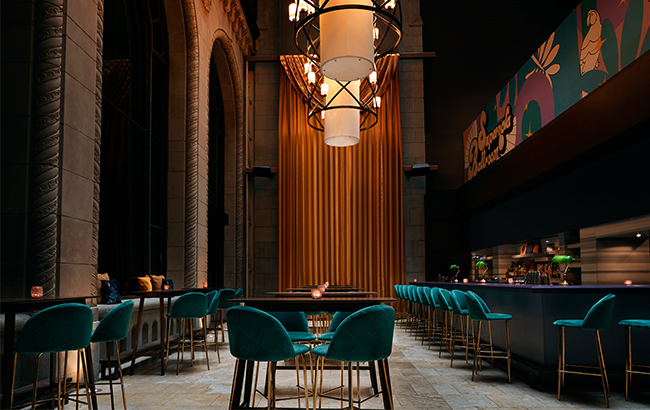 Kelsey Ramage and Iain Griffiths, founders of waste‐reducing pop‐up Trash Tiki, opened their first permanent bar in September: Supernova Ballroom.
Located in a 1920s‐style building in downtown Toronto, Supernova Ballroom offers a "dazzling disco party" with a 1970s colour palette and artwork by Kisira Hill. The drinks offering at Supernova Ballroom champions Ramage and Griffiths' conscious approach to cocktail making, with a focus on sparkling drinks.
Celebrating Ontario's seasonal produce, the menu is divided into four sections: Toppers, featuring light fizzy drinks; Wild Airs, which includes house‐fermented cocktails; Seventy Fives, which comprises French 75 variations; and House Bubbles, offering house‐ carbonated drinks on tap.
The duo has also partnered with Toronto juice shop Anti Vice to utilise its rinds and husks in drinks. Spirits available at Supernova Ballroom will include those from carbon‐neutral distilleries, local producers and "those making steps for a better future".
Drinks on the menu include: Great Day for Bay, which is made with Saskatoon berries and blueberry wine, Lillet and sparkling rosé; and the Disco Socks, which combines Novo Fogo cachaça, Aperol, coconut whey, lime oleo and grapefruit soda.