BrewDog to open alcohol-free bar in London
Scottish brewer and distiller BrewDog will open its first booze-free bar in London next week, which will offer non-alcoholic 'spirits', beers and ciders.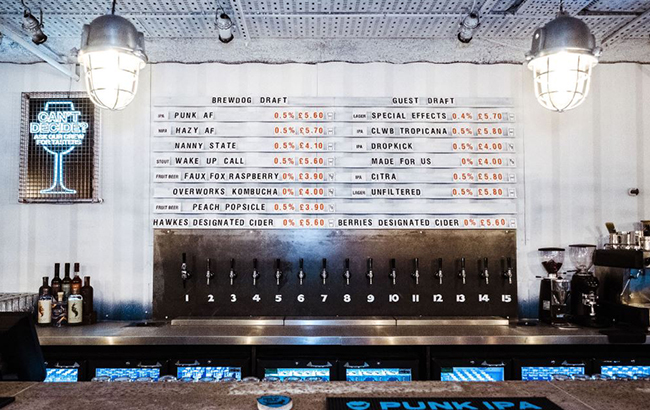 The new venue, called BrewDog AF Bar, will open on Monday (6 January) in London's Old Street.
The site will offer 15 taps of draft alcohol-free beer, alcohol-free 'spirits', including Seedlip, Aecorn Apéritifs and Caleño, and the alcohol-free Designated Cider from Hawkes.
BrewDog has also created a 'Drink all you can Jan' initiative, which will offer free refills at its alcohol-free bars in the UK during January.
James Watt, co-founder of BrewDog, said: "Drinkers opting for low- or no-alcohol are in danger of compromising on quality, taste and experience. And that's just the beer – forget about places in which to enjoy it. We are going to change that.
"We exist to be a point of difference, and our first BrewDog AF Bar is just that. It is a beacon for anyone in London after an alcohol-free alternative.
"Alcohol free does not need to be synonymous with taste-free. 'Drink all you can Jan' is our anti-Dry January. Whether you have cut alcohol out or are cutting back we want to show that alcohol-free doesn't mean compromising on quality or taste."
The venue will have a programme of ongoing activities including hip-hop karaoke, Dabbers Bingo, and Famous First Words, with more yet to be announced.
The food offering will include burgers, salads and buffalo wings, along with healthy specials.
The AF Bar will open at 12pm on Monday 6 January, and will then be open 12pm-11pm from Sunday to Thursday and 12pm-11.30pm on Friday and Saturday.
BrewDog's spirits arm BrewDog Distilling Co unveiled a range of new products in 2019. The producer is also planning to open a US distillery.