Naked Malt unveils global competition
By Alice Brooker
Edrington-owned Naked Malt has launched its Live Naked Experience online competition, offering a tailored staycation for the winner.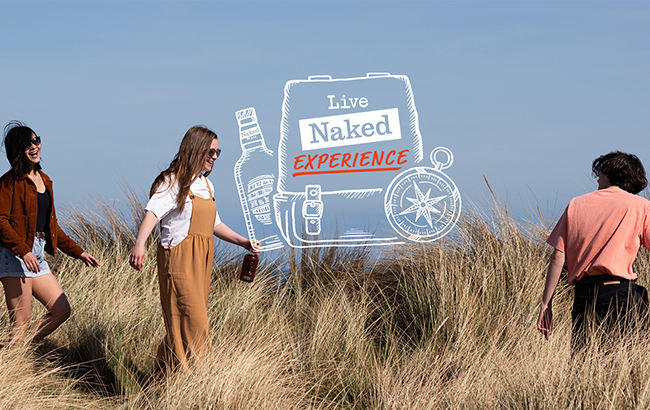 Naked Malt, formerly known as Naked Grouse, has launched its global competition called 'Live Naked Experience', inviting participants to complete an online quiz designed to reveal their ideal trip away.
The winner will receive a staycation in their country of residence, designed to suit their personality, to enjoy with three guests of their choosing. The trip will be tailored to the style of 'creative', 'relaxed' or 'active' depending on the answers submitted.
Irina Khorokhorina, global brand manager for Naked Malt, said: "Our Live Naked experience could not come at a more poignant time.
"As people start to embrace and celebrate the return of freedom what better way to celebrate by going on an adventure of a lifetime, connecting with friends again and embracing a renewed appetite for exploring the breadth, diversity and magic of home soil."
The brand has launched the competition in partnership with UK travel writer Sian Anna Lewis, author of The Girl Outdoors blog.
To mark the launch, the whisky brand challenged Lewis to climb 3,047 feet to the peak of the Blà Bheinn mountain, located on the Isle of Skye, Scotland.
Elaine Miller, global head of marketing for Naked Malt, said: "We wanted to showcase Naked Malt beyond the bottle and the Live Naked experience encapsulates what the brand ethos is all about – getting back to your true self.
"We celebrate the fresh perspective freedom can bring, and believe doing things differently can lead to greater connections, new discoveries and better experiences."
The trip will also include locally sourced meals paired with Naked Malt drinks.
Entrants may participate in the competition if they reside in the UK, US, Sweden, Taiwan, Portugal, France or the Netherlands.
The competition is accepting entrants until 28 November, and the quiz can be accessed through the Naked Malt website.
The 700ml Scotch whisky also received a bottle refresh earlier this year and is now made with 100% recyclable packaging.