Rapid authentication device detects fake whisky
Detection technology firm Eluceda has created a portable device that can rapidly identify whether a whisky is authentic.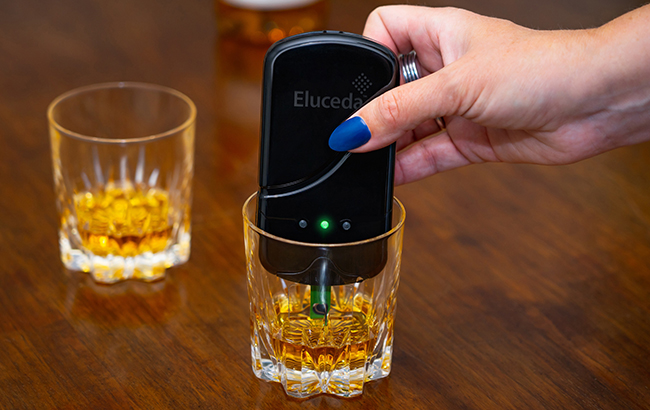 Eluceda's E-Sens device is said to detect the electrochemical 'taste' of specific batches of a whisky. The device uses customised electrodes that contain specific catalysts that react with the groups of molecules found in the liquid.
The device then produces a digital reading, which is analysed using algorithms that are compared to other authentic whisky samples from a database.
Results are provided in a few minutes, generating a percentage of similarity when compared to the database.
The Scotch Whisky Research Institute offered samples and consultancy for the feasibility study.
The device is able to recognise genuine whiskies from those that have been diluted with water, ethanol or other whiskies, as well as from counterfeit products.
According to an EU IPO report cited by Eluceda, the industry loses €1.3 billion (US$1.5bn) of revenue every year in Europe due to counterfeit wines and spirits, equivalent to 3.3% of the sectors' sales.
Eluceda said the ability to recognise authentic whiskies quickly and cost-effectively is increasingly important to boost confidence and brand reputation.
"Authentication is a key tool in combating counterfeiters in any industry but often methods for food and drink are slow and expensive, sometimes requiring central laboratory testing, making for long lead times," said Dr Ian Eastwood, chief technology officer at Eluceda.
"Our solution helps change this by giving distilleries, brands and enforcement officers a rapid and accurate way to prove that their whisky is genuine."
The Eluceda E-Sens whisky authentication device made its debut at the seventh Worldwide Distilled Spirits Conference, held virtually from 6-8 September.
It will also be showcased at Luxe Pack in Monaco in the Digital Village from 27-29 September.
The company is seeking spirits partners to build a broader ranges of batches to expand the database.
In December last year, the world's first age verification service for whisky was created in a bid to tackle counterfeit products.