Eva Longoria launches Tequila
Desperate Housewives star Eva Longoria has entered the agave spirits category with the release of Casa Del Sol Tequila.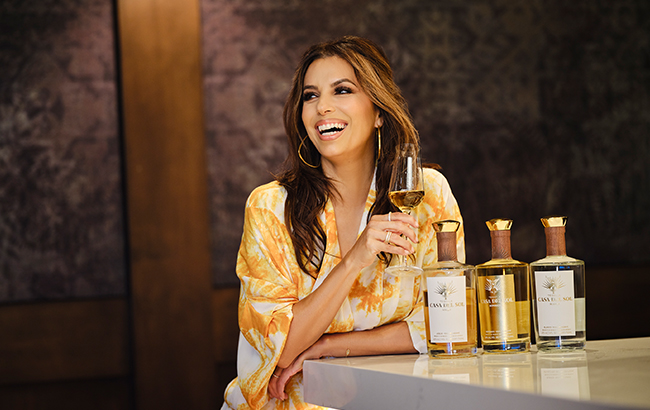 Described as a sipping Tequila, Casa Del Sol is inspired by Mayahuel, the Aztec goddess of agave, and translates to 'house of the sun' in Spanish.
Made from 100% Blue Weber agave sourced from rich clay soil in the highlands of Jalisco, Mexico, the Tequila is available in three variants: blanco, reposado and añejo.
Casa Del Sol is said to combine Mexican tradition with French heritage.
The Tequila brand has partnered with Laurent Martell, ninth-generation family member of Martell in France, to source Cognac barrels made with French limousin oak.
The blanco Tequila offers notes of fresh agave, mint, spice, caramel and green apple. Meanwhile, the reposado offering has matured for a minimum of four months in French oak and Cognac barrels made with French limousin oak. It provides a woody aroma with soft vanilla, raisin and sweet tobacco.
The añejo was aged for 14 months in the same barrels, with notes of dark cacao, dried fruit, toasted oak, vanilla, toffee, apricot, oak and chestnut.
'Distinct flavour profile'
Longoria explained: "When creating Casa Del Sol, we wanted to deliver a brand that was set apart from the rest. From the liquid to the legacy, we took the time to develop an ultra-premium Tequila focusing on authenticity and a distinct flavour profile."
Alongside Longoria, the team includes Alejandra Pelayo, Casa Del Sol's head of production and goddaughter of the late Francisco Alcaraz, former master distiller and creator of Patrón, and Mariana Padilla, a Mexico-based artisan.
"Legacy and authenticity are huge components of Casa Del Sol, and it was important for us to pay homage to the past through every facet of the brand, including our logo, which is visibly inspired by Mayahuel," said Padilla.
The Mexican-American actor said her aim is to raise the voices of women and celebrate her Mexican heritage.
The brand is planning to develop programmes to help women in the Altos de Jalisco region gain access to services and resources to boost their personal and professional development.
"With Casa Del Sol, we are bringing together casual drinkers and Tequila enthusiasts alike to enjoy a product with bold taste that everyone will find unforgettable," Longoria added.
Casa Del Sol is available from select retailers and restaurants across the US states of California, Colorado and Florida. Blanco is priced at US$59.99, the reposado is available for US$69.99 and the añejo carries a price tag of US$99.99.
It is available for pre-sale online in the US from the Casa Del Sol website and will be available in the off-trade nationally in early 2022.
Longoria is the latest star to capitalise on the Tequila boom, following the likes of Kendall Jenner, Dwayne 'The Rock' Johnson and George Clooney, among others.