Praphakorn Konglee claims 2021 Bacardí Legacy title
By Kate Malczewski
Thai bartender Praphakorn Konglee has been crowned the champion of Bacardí Legacy, making Thailand the first country to win the competition twice in a row.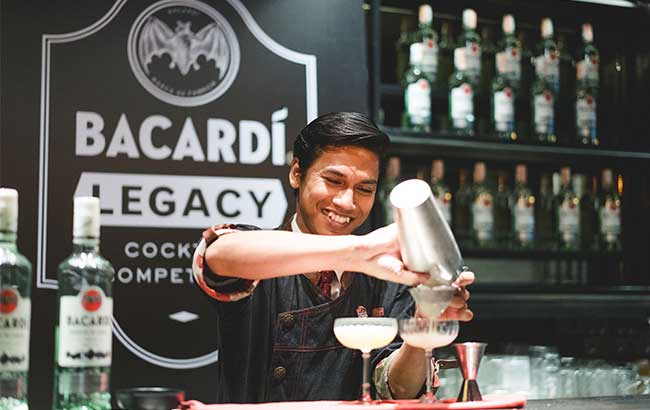 Over the last week, Konglee and 38 other competitors took part in the competition's global finals, held virtually.
The contest's finale was originally scheduled to take place in Miami in May 2020, but was postponed and moved online due to the Covid-19 pandemic.
Konglee secured the victory with his Out of Sight cocktail, a mix of Bacardí Carta Blanca rum, fresh pineapple, basil, yoghurt, lemon and agave. The serve was inspired by his personal journey to fatherhood.
The Thai bartender works at Find the Locker Room bar in Bangkok, a venue co-founded by Bacardí Legacy 2019 winner Ronnaporn Kanivichaporn.
Konglee said: "Bringing this title to Thailand for a second year is just amazing. I'm celebrating here now with my family and am so excited for all the opportunities ahead of me with Bacardí, which will allow me to improve as a bartender and make my family proud.
"It has been such a difficult year, but I am so grateful that we have all been able to complete our Legacy journey together – even though miles apart – tonight."
As his prize, Konglee will receive year-long support from Bacardí to further develop his career, and his winning cocktail will be served in some of the world's top bars.
Monica Berg, one of the judges of the grand final, said: "What I loved most about the winning drink was that it was very surprising, and yet also very familiar.
"I loved how Praphakorn connected the ingredients of the drink to his own personal journey, and that this journey was also something we could all relate to. This cocktail is not only a great expression of where he comes from, but also a celebration of the new directions that he will take."
In addition to Berg, the judging panel consisted of Ago Perrone, of the Connaught bar in London; Ian Burrell, global rum ambassador; and Sandrae Lawrence, co-founder of The Cocktail Lovers.
Konglee was joined on the virtual podium by two runners-up: Adam Dow from Australia and Max Curzon-Price from Canada.