Rum Brand Champion 2021: Tanduay
By admin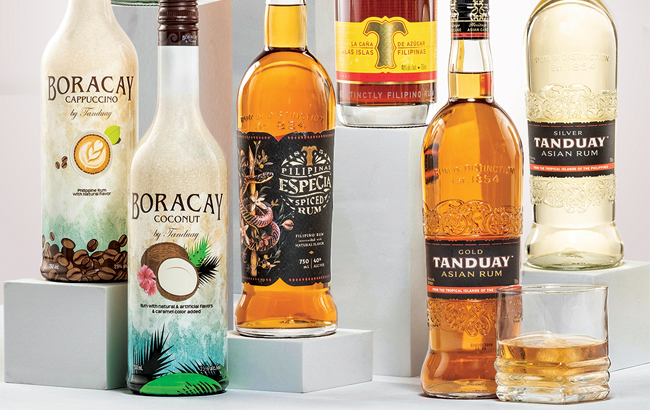 The Covid‐19 crisis created a challenging environment for million‐case‐selling rum brands last year. Only a handful of the world's top‐selling labels were able to offset international lockdowns and the economic headwinds that came with them.
Out of all the Rum Brand Champions, Philippine rum Tanduay was the only million‐case brand to report double‐digit growth, securing the top accolade of Rum Brand Champion 2021. Tanduay managed to grow volumes from 20.5 million cases in 2019 to 23.9m cases in 2020 – a 16.6% increase.
"Despite the temporary imposition of liquor bans across the Philippines during some months of 2020, there was still quite an increase in our sales growth," says a spokesperson for Tanduay.
"On the distribution side, the pandemic restrictions affected on‐trade sales more than the off‐trade, which is Tanduay's main distribution strength."
Another key factor in the Rum Brand Champion's success last year was its affordability.
"Tanduay products remained affordable to consumers, especially in the lower economic classes that were affected by the adverse economic conditions brought about by the pandemic," the spokesperson says. "Online selling has also been a big factor in our success during the pandemic. We launched our own local e‐commerce website, called shots.ph, and we also started selling through the country's biggest online selling platforms – Shopee and Lazada."
While the Philippines remains Tanduay's primary market, the brand has also been experiencing "steady growth" in overseas regions since going international in 2017. Out of the three main regions in the Philippines, two of them – Visayas and Mindanao – are the brand's "main stronghold".
"Aggressive expansion" will be front and centre of Tanduay's plans to continue its success in 2021, not just in the Philippines but worldwide.
"Currently, we have reached the US, UAE, China, Singapore, Belgium, Netherlands and Luxembourg," the spokesperson says. "We are slated to add more distribution regions in North America, Latin America and Asia Pacific in the coming months. With our recent global expansion, we are hoping to reach more consumers that would patronise the brand."
The second‐best‐performing brand out of this year's Rum Brand Champions was William Grant & Sons‐owned Sailor Jerry. The brand managed to stay steady above the million‐case mark in 2020, reporting a 1.5% increase in volume.
Barceló rum was the only other brand in the list to report growth in 2020, with volumes up by 1% compared with 2019.
Diageo's Captain Morgan was flat, with a marginal 0.1% drop in volumes. Bacardí also experienced a slight dip in sales, with a minor decrease of 0.4% from 17.8m cases to 17.7m – which was still relatively impressive considering the pandemic and the brand's large volume base.
Pernod Ricard struggled to keep Havana Club buoyant, reporting a 10% drop in volumes from 4.6m to 4.1m.
United Spirits also had a tough time with McDowell's No.1 Rum, which fell by 24.7%. Radico Khaitan's Contessa Rum plummeted by 33.3%, leaving it to hover dangerously close to the million‐case threshold. Diageo's Kenya Cane and Campari Group's Appleton Estate (including J Wray) are also now sitting on the cusp.
Rum (figures: million 9l-case sales)
BRAND
OWNER
2016
2017
2018
2019
2020
%+/-
Tanduay
Tanduay Distillers
16.6
19.5
20.1
20.5
23.9
16.6%
Bacardí
Bacardí
17.2
16.8
17.1
17.8
17.7
-0.4%
Captain Morgan
Diageo
10.7
11.7
11.7
11.9
11.9
-0.1%
McDowell's No.1 Rum
United Spirits
15.7
12.3
11.2
10.8
8.1
-24.7%
Havana Club
Pernod Ricard
4.2
4.5
4.6
4.6
4.1
-10.0%
Barceló
Ron Barceló
2.1
2.2
2.2
2.1
2.1
1.0%
Old Port Rum
Amrut Distillers
1.7
1.3
1.3
1.8
1.6
-13.4%
Božkov
Stock Spirits Group
1.1
1.1
1.3
1.6
1.2
-26.2%
Kenya Cane
Diageo
1.5
1.7
1.7
1.4
1.0
-25.0%
Appleton Estate (including J Wray)
Campari Group
1.2
1.2
1.1
1.1
1.0
-6.5%
Contessa Rum
Radico Khaitan
2.0
1.8
1.6
1.5
1.0
-33.3%
Sailor Jerry
William Grant & Sons
1.0
1.0
1.0
1.0
1.0
1.5%