Hornitos Tequila moves into hard seltzers
By Nicola Carruthers
Beam Suntory-owned Hornitos has entered the ready-to-drink sector with the launch of its Tequila Seltzer line.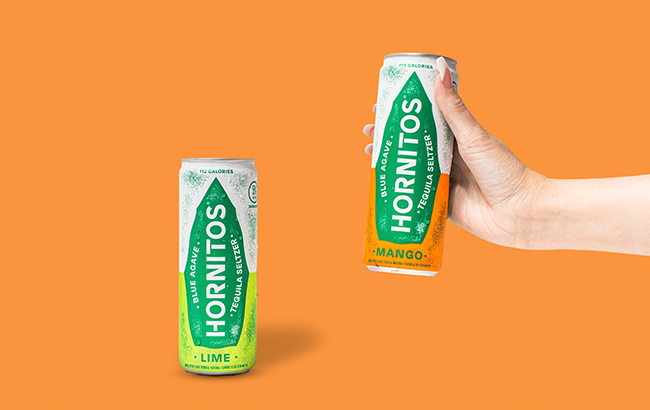 Hornitos Tequila Seltzer is available in two 5% ABV flavours – lime and mango. The 12oz canned variants contains fewer than 115 calories and 'natural' ingredients.
Made with Hornitos Plata Tequila and carbonated water, the ready-to-drink (RTD) offering taps into the trend for convenient formats and 'high-energy moments'.
"The Tequila and ready-to-drink cocktail segments are two of the fastest-growing segments in the spirits category right now, with hard seltzer retail sales up 225% in the last year alone," said Rashidi Hodari, managing director of Tequila at Beam Suntory.
"With our pioneering history, we're excited to seize this momentum and bring Tequila and seltzer together to deliver a whole new Hornitos Tequila experience for those looking for a refreshing, premium ready-to-drink beverage."
Hornitos Tequila Seltzer is available this week in select markets and across the US this summer. A four-pack is priced at RRP US$11.99.
The Hornitos Tequila range includes the reposado, añejo, cristalino, and Black Barrel bottlings.
Hornitos grew by 6.4% to 1.3 million nine-litre cases in 2019, according to Brand Champions 2020 data. Beam Suntory also owns Sauza Tequila, which declined by 17% to 2.2m cases in 2019.
In 2018, Sauza unveiled three new RTD spiked sparkling waters.
In September last year, Beam Suntory acquired RTD cocktail brand On The Rocks as it aimed to "become number one in the spirits-based ready-to-drink market". The firm plans to expand the brand's presence across the world and extend its range.
The Tequila brand is not the only player to move into RTDs. The world's biggest-selling Tequila brand, Jose Cuervo, tapped into the burgeoning hard seltzer category with the launch of the canned Playamar line.