Macallan collaborates with David Carson
By Nicola Carruthers
The Macallan has partnered with American graphic designer David Carson on a new festive campaign.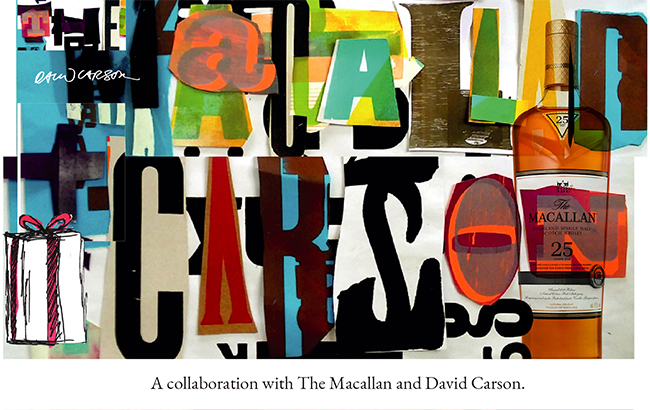 Texas-born David Carson is considered one of the world's most influential graphic designers, The Macallan said. The 'powerful and disruptive' campaign features artwork in Carson's signature iconoclastic style.
The creative focusses on five of the Scotch brand's single malt whiskies – The Macallan Double Cask 12 Years Old, Sherry Oak 18 Years Old, Sherry Oak 25 Years Old, Rare Cask and Estate.
Each of these expressions are said to share characteristics with the American artist and his work, including uniqueness, innovation, craftsmanship and complexity.
Jaume Ferras, global creative director for The Macallan, said: "David Carson is an extraordinary visionary whose ground-breaking graphic designs continue to excite and inspire to this day.
"Like The Macallan, he is renowned for his unique style and mastery of his trade. Working with him has been an incredible process and we look forward to revealing the results of our collaboration over the festive season."
The campaign features 'bold, fractured typography' combined with illustrations of the flavours featured in each of the whiskies. The designs also highlight 'playful representations of the festive season'. The campaign's straplines include: 'I love it', 'Nothing less will do', 'You don't have to', and 'You know me so well'.
The designs will be published digitally and in print, and are signed by Carson.
In April last year, the Advertising Standards Authority (ASA) banned The Macallan's first global advertising campaign for promoting "risky or daring behaviour".