ELLC founder on making top-quality liquid affordable
While other spirits brands leverage their craft credentials so they can charge more money for their products, East London Liquor Company has deliberately gone the other way, making sure its drinks combine quality with affordability. We spoke to founder Alex Wolpert to find out more.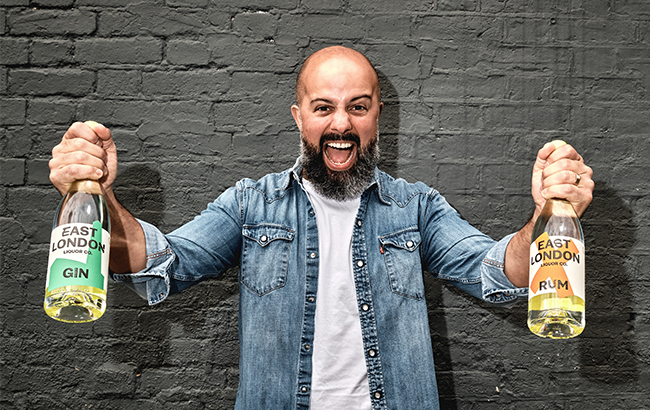 "We had a plan, everyone has the plan, but life gets in the way quite often," says Alex Wolpert. If 2020 has taught us anything, it's the importance of agility and adaptability – and the East London Liquor Company (ELLC) founder has shown he has both qualities in spades.
This year alone, ELLC has partnered with London's Kew Gardens to create the next series of Kew spirits, released a range of ready‐to‐drink (RTD) cans, moved into hard seltzers, launched an online shop and rebranded its gins, vodka and rum – and that's before you get to the new white rum, and two new whiskies that are due to launch imminently.
BOOZE CHAMPION
Before Wolpert set about spearheading the revival of east London spirits, he had another passion: acting. "I left drama school, and I was a jobbing actor and working in the bar industry. As that progressed over the years I realised I was spending more of my time behind the bar and less time acting," he recalls. "I started asking myself why no one was championing small independent booze in London, why was it only the big boys who were really able to champion that space?" Inspired by the growing trend of locality, Wolpert took the leap to create his own local produce in east London's Bow Wharf, where ELLC is situated today.
When the site launched in 2014, it became the first distillery to produce whisky, gin and vodka in east London in more than a century. "I was running [independent bar and pub group] Barworks at the time, and I had some very supportive and wonderful bosses who I turned to and said, look, I want to go make whisky and gin, do you want to help me out, partner up and be part of the founding team? And they were incredibly enthusiastic and supportive, and they've been a key part of the business ever since," Wolpert explains.
With two copper pot stills installed and Tom Hills at the distilling helm, ELLC's vodka and gin brands soon amassed a keen following. In its first year, ELLC was producing 1,000 bottles of gin a month for bars and restaurants.
By 2018, Wolpert was ready to realise his expansion plans and set about fundraising for £750,000 (US$971,000). ELLC smashed its target in the first 24 hours, and the funding period closed early after raising £1.5 million (US$1.9m). "That was an amazing vote of confidence from our on‐trade customers who are many of our investors, but also from consumers, who really backed us to take us to the next level," Wolpert says. "With the crowdfunding, the reason was twofold: one was to scale up our whisky production quite significantly, which we did, we scaled up our brewery, and then we were also able to invest in a bigger sales team to develop our sales both abroad and in the UK."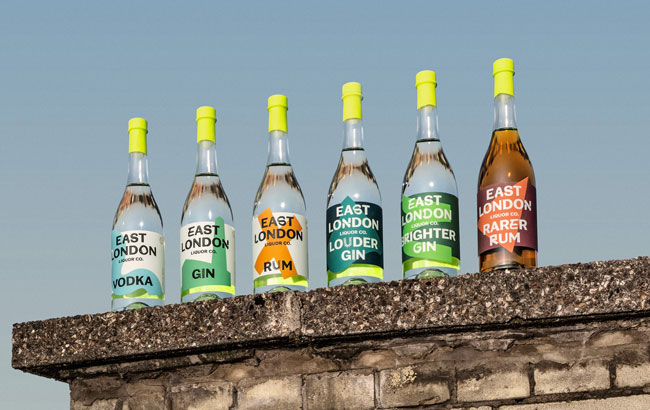 Later in 2018, ELLC launched London's first rye whisky in more than 100 years. Wolpert's belief in the power of London rye was so strong that ELLC has trademarked the term. "That's been an amazing process because actually, we're not constrained by any specific labelling or production laws about what percentage of ingredients we have to use to call it London rye, so we're able to be led entirely by taste, not by law."
The 2020 iteration of ELLC London Rye is set to launch this month, along with ELLC's London Wheat Whisky 2020. The London Rye is made from 42% rye and 58% malted barley, and uses a combination of pot and column still distillation. It's matured in virgin French oak, STR (shaved, toasted and recharred) Sherry casks, a Bourbon cask and chestnut cask, "which gives that almost green coffee bean note to it". Meanwhile, London Wheat is made from a combination of unmalted and malted wheat, and malted barley. The expression is double‐pot‐distilled before being aged in new French oak, Sonoma Bourbon and Sonoma rye casks, to give "this wonderful light, fragrant, stewed fruit, cinnamon flavour profile", Wolpert reveals.
Before Covid‐19, ELLC was able to fill around 20 hogsheads of whisky a month. The pandemic meant the business had to temporarily hit pause on distilling, and while production rates are still slower than they once were, Wolpert says: "They will be picking up again shortly."
SALES NOSEDIVE
For all of ELLC's creativity and resilience through these testing times, sadly, like many companies, the London‐based distiller has not come out unscathed. In March when the UK government ordered all on‐trade venues to close, ELLC's wholesale on‐trade sales nosedived by 95% overnight. "We lost it the moment lockdown happened," Wolpert says. "That revenue just evaporated and then we worked very hard to get back to that through our online shop, which was a new sales channel for us, and through the ready‐to‐drink range, which was also new to us."
As the company battled with "how to keep the lights on in the current climate", the difficult decision to "let about a third of our team go" had to be made. "We had, and we still do have, a great team," Wolpert stresses.
Within a couple of weeks of lockdown, ELLC launched its online shop with a click‐and‐ collect option for local customers to pick up their orders on a Friday afternoon. "There would be 60 or 70 people who would come down and pick up their orders," Wolpert remembers. "The groundswell of support from our local community who wanted to continue drinking local and who came and supported us was really heart‐warming."
Before the pandemic, ELLC already had its line of RTD cans in development, which proved to be a roaring success when they launched in May, a peak period for physically‐distanced park gatherings while bars remained shut. The RTD collection comprises four expressions: Grapefruit Gin and Tonic (5% ABV), Rum and Ginger (4.6% ABV), Vodka and Rhubarb (4.6% ABV), and a low‐alcohol version of the Grapefruit Gin and Tonic (0.5% ABV).
The pre‐mixed options were followed by a line of seltzers in September, "which again have been really well received", Wolpert notes, "particularly by some of our on‐trade customers who see the value in simpler, quality serves". The US has shown a strong penchant for hard seltzers and Wolpert is noticing the trend growing closer to home. ELLC elected to drop the 'hard' from the name, however, to stay true to its vision of transparency.
"They're already hard because they've got booze in them," Wolpert says, "so we got rid of the word 'hard', then we really scrutinised the category and thought, what's our take on it? And actually, our take on it was we can make something that tastes incredible, that tastes as natural as it is without there being any funny business in the can. We thought we can do something very simple, very straightforward and position ourselves slightly differently."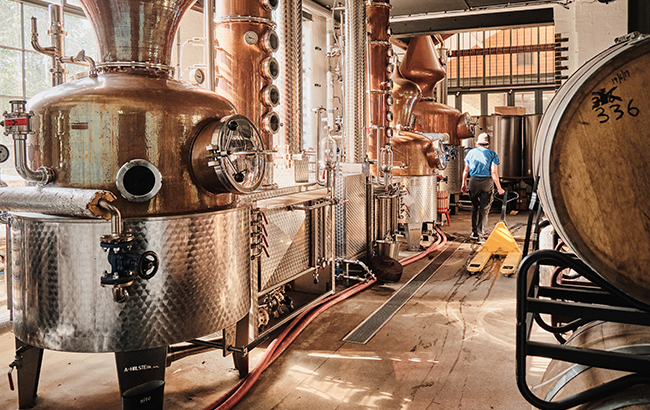 ELLC's seltzer range features two flavours, pomegranate and lime, each of which is mixed with brand's vodka. "All of our canned products have the same stuff that's in our bottles, so there are no inferior products in the can," Wolpert adds. "It's a much more straight‐up, transparent approach for us. There's a lot of confusion about what a seltzer is and what we're doing is not confusing. If you're confusing consumers, it's either laziness or you're being deliberately ambiguous."
Transparency also played a part in ELLC's recent redesign, covering its vodka, gin and rum bottlings. The 'stripped‐back' look, created in partnership with branding agency Ragged Edge, aims to refocus attention to the quality of the liquid inside the bottle, while keeping costs down.
"We talk a lot about this idea of 'justice being served' and being able to give great liquid at a great price, and this counterintuitive idea about excellence being something that's not defined by price," Wolpert says. "We're aiming for a real democratising of excellence. We want to be commercially ethical about this; we don't want to be known as a 'craft' brand to justify a high price tag. We all know that making gin is not an expensive pursuit, and therefore if we can pass that on to the customer and give everyone a gold medal‐winning gin, then everyone benefits out of that."
Prices start at £21.50 (US$28) per bottle for East London Vodka and East London Gin, and £23 for East London Rum. East London Brighter Gin comes in at £26, East London Louder Gin for £27 and East London Rarer Rum for £27. With many gin brands selling for £30‐plus, how is ELLC able to compete in this more affordable price bracket?
"We just have very different margin expectations," Wolpert says. "There is no easy, quick return on the investment of building a distillery, building a whisky and gin brand; we're in it for the long term, and we feel there's huge merit in being as accessible as possible. It's every brand's responsibility, particularly in the current climate to be inclusive, transparent and accessible, and what is more inclusive, transparent and accessible than a price point of gin that leaves no ambiguity about what our offering is."
ELLC's message is resonating with retailers, as the brand secured a listing with UK supermarket giant Tesco in September. East London Gin, East London Rum and ELLC's RTD cans are available at Tesco and Metro shops in the South East of England. "It's a regional listing to begin with, but it's a fantastic validation for us that our booze is accessible and that this idea of affordable excellence resonates," Wolpert enthuses, adding Co‐op shops will also be stocking the RTD cans from the end of October.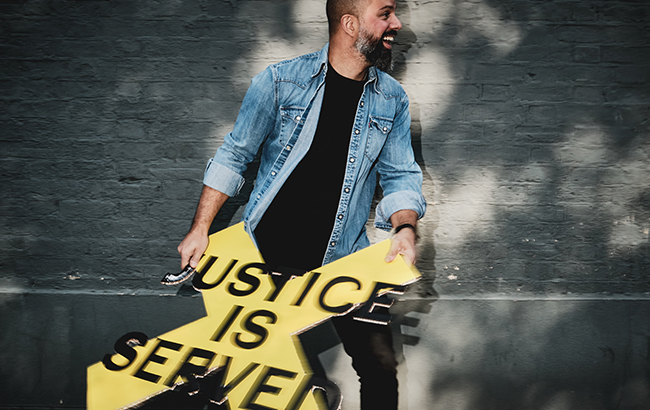 International expansion also remains an important aspiration for ELLC, but again, the pandemic means development has been slower than Wolpert anticipated. "At the end of last year, we signed a distribution deal with one of the largest wholesalers in California, which was going to be a big market for us this year," explains Wolpert. "That obviously hasn't happened, and the same is true of New York. But on the other hand, we've been able to be agile, and pivot and move into a space that has allowed us to continue to grow despite the pandemic."
Brexit also put added pressure on the company, but Wolpert says ELLC has found "amazing support" in Germany and Austria. Meanwhile, Australia also remains of significant importance to the brand.
"It's been an interesting 12 to 13 months," he reflects. "Brexit came and everyone thought it couldn't get any worse; then Covid came and everyone realised it could get a lot worse. It's definitely a time when you have to dig deep and surround yourself with wonderful people who have a great skillset and can help drive it all forward."
One of the biggest challenges for Wolpert and his team is the UK's 10pm curfew for the on‐trade and the three‐tier Covid‐19 alert system. After reopening the bar in mid‐July, the venue, like all others in the country, must now shut at 10pm sharp, and households are not allowed to mix inside the venue, creating extra limitations on trading capacity.
BRUTAL CURFEWS
"The 10pm curfew has had a massive impact on our venue. We're down significantly on our turnover before the curfew; it's so frustrating," Wolpert says. "It feels like the arts and hospitality industries are both being singled out with no real scientific basis for very brutal trading curfews, which are just totally crippling the industry. If there was sound scientific basis for it, and support from the government to make up for the loss of revenue in some shape or form that was meaningful to bars and restaurants, then it would be much easier to stomach, but it's infuriating," he adds. And he notes that weekly Public Health England figures show fewer than 3% of Covid‐19 cases outside of homes are linked to hospitality.
Wolpert is realistic about the difficult period that lies ahead. "It's going to be very tough," he says. "But the hospitality industry has proven time and time again that one, we're incredibly resilient and creative, and two, we've been operating under incredibly strict health and safety guidelines for decades. This is what we do; we look after people."
Looking beyond the pandemic, Wolpert is confident in the potential of ELLC, and hopes to have many more milestones to celebrate in another six years' time. "The ambition is we are recognised as a great brand that sits on everyone's gin shelf as we grow into not only a regional brand, but an international brand, and that this idea of affordable excellence, of great booze for everyone at great prices continues to resonate."