Top five bars in… Mykonos, Greece
By Melita Kiely
From drinking and dancing in all-night beach clubs to chilling out on sensational sands, the Greek island of Mykonos has something for everyone. And that includes serving up world-class cocktails.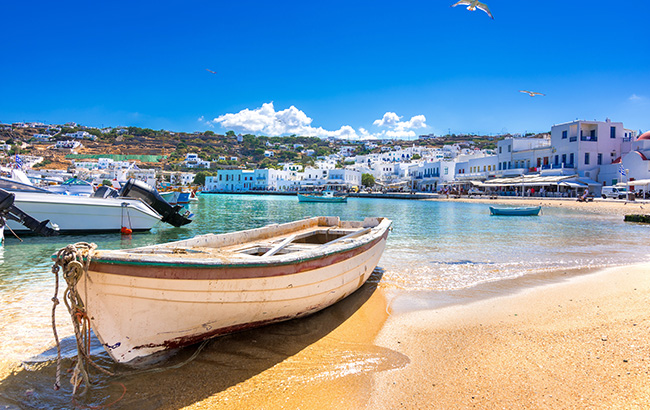 The Ibiza of Greece, Mykonos is where hedonistic holidaymakers, sun worshippers and fashion aficionados gather for one big summer party. But there's more to this Cycladic island than the thumping bass lines and all‐night raves it's become famous for.
There's something utterly charming about Mykonos, from its whitewashed cubed villas that speckle the desert‐like landscape, to the boutique stores and narrow lanes that meander through the town – all overlooked by the island's iconic windmills. Not to mention the topaz waters that lap at Mykonos's shores.
Sun seekers shouldn't overlook Ftelia beach, popular with windsurfers for the cooling breeze that sweeps across it. But the sea here is wonderfully warm and the sand sizzles beneath your feet, so sit on a sunbed and take in the panoramic sea views that wrap around you. Nearby is Ftelia Beach Club, which serves rustic Mediterranean cuisine and refreshing libations.
Beach parties aplenty can be found at Parnormos. The island's beach clubs get started in the afternoon and the music keeps playing until dawn, so expect little to no sleep between June and September.
For a pre‐dinner cocktail while watching the sun disappear over the horizon, head to iconic gay bar JackieO' Town Bar just before dusk. But mind you don't stand too close to the water's edge or be prepared for a soaking as rogue waves have been known to crash onto the promenade. Head to sister site JackieO' Beach Club to continue the merriment, with nightly drag shows and world‐class DJ sets.
A short drive from Mykonos town, or Chora, to Paraga Beach is Scorpios, which has become one of the most sought‐after beach clubs on the island. You'll find everything here to transition you from day to night, including beaches, sun‐protected lounge areas, killer cocktails, exquisite cuisine, DJs and dancing. From the ultra‐chilled to the serious reveller – Mykonos has something for everyone.
Click through the following pages to see our top bars in Mykonos, Greece. 
*These venues have reopened with safety measures and restricted capacity due to Covid-19
JackieO' Town Bar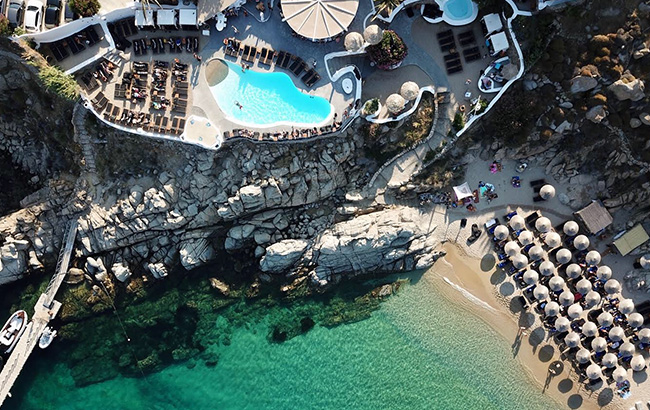 Plateia Karaoli Dimitriou, 846 00
Named in honour of the US First Lady and wife of Aristotle Onassis, Jacqueline Kennedy Onassis, JackieO' is one of the hottest gay bars on the island. All are welcome to this seaside drinking den, which plays loud beats until the early hours while serving show‐stopping cocktails, from classics to house specials.
Catari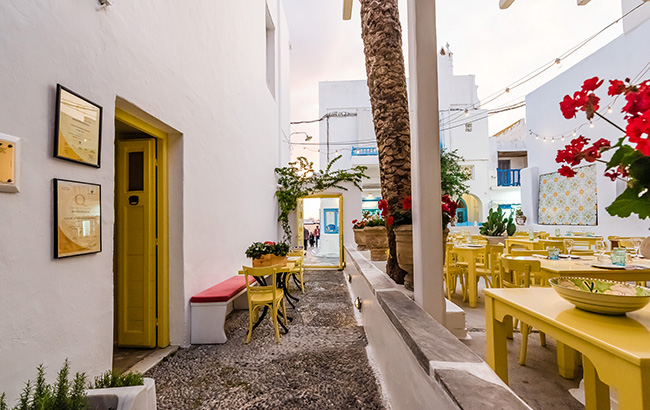 Agia Anna, 846 00
Follow the winding streets of Mykonos town inland and you'll stumble across this semi‐al fresco Italian gem. Packed with palm trees and flower pots, not only does this restaurant‐bar serve the best pizza and pasta in town, its cocktail menu is sure to thrill.
Queen of Mykonos
Enoplan Dinameon, 846 00
Just a stone's throw from the town centre, or Chora, Queen of Mykonos is where the island's elite gather to sip Champagne and cocktails. It'll cost you a pretty penny, but the signature serves – particularly those topped with the French fizz – are worth it.
Galleraki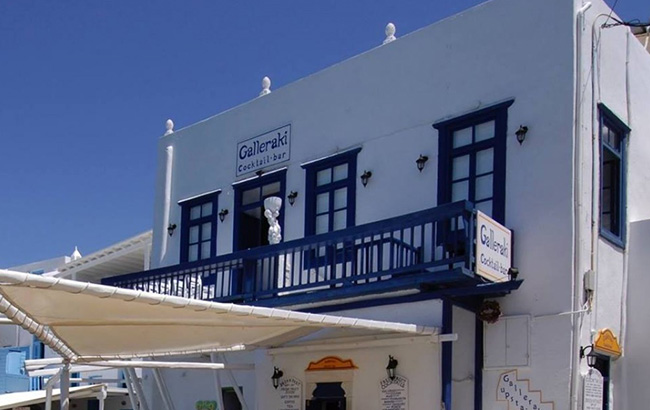 Skarpa, 846 00
This café‐cum‐bar means you'll be sipping coffees and fresh juices while the sun's up, but switching to Galleraki's signature Frozen Daiquiri, the Katerinaki Cocktail, after sun down. Situated in the Little Venice area of Mykonos, Galleraki is set across two floors that date back to the late 1880s.
Scorpios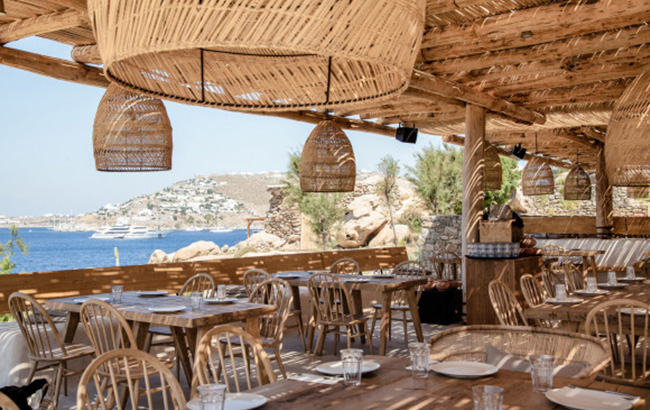 Paraga, 846 00
Unrivalled nightlife combined with an artistic and holistic day programme make Scorpios an unmissable stop while on Mykonos