Vodka Brand Champion 2020: Morosha
By admin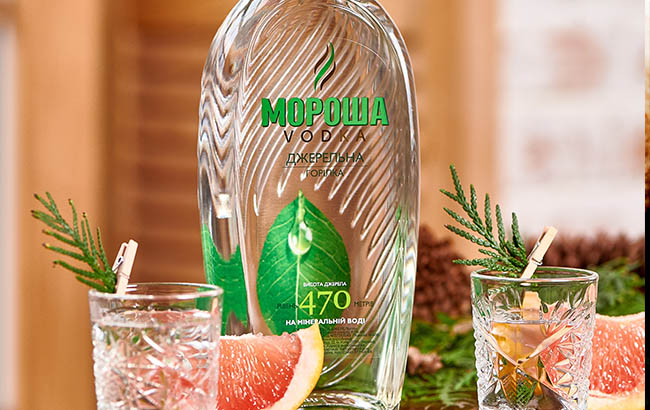 The vodka category just wasn't able to end its steady decline of recent years in 2019. Volumes continued to tumble from 322.89 million nine‐litre cases in 2018 to 321.63m in 2019, according to Eurmonitor International. However, a smattering of brands defied the odds to report impressive growth last year – most notably this year's Vodka Brand Champion, Morosha. The Global Spirits‐owned vodka experienced a 72.2% spike in sales in 2019, taking its volume from 3.6m cases in 2018 to 6.2m last year.
"The main component of our success comes from the natural development of the brand," says Jose Guerrero, director of sales at Global Spirits. "Morosha is crafted from spring water, and our brand transcends pro‐ecological ideology. Furthermore, this year we have strengthened our brand concept with a restyling and developed five new and unique SKUs for foreign markets."
The brand has been focused on strengthening its position in the category, which has resulted in "significant signs of growth in all markets". Guerrero explains: "In addition, we have opened new third‐party bottling productions in Belarus, Azerbaijan, Kazakhstan and Texas (USA)." Morosha also launched five SKUs in 2019, which it believes helped propel its success last year.
Morosha has no intention of taking its foot off the accelerator this year either. "In 2020, we are planning to take Morosha to a new level. This year, Morosha will introduce several new products and concepts to the market. Some of the concepts in the works are: natural symbiosis, a new filtration process, the highest‐quality spring water, and oxygen enrichment," Guerrero adds.
Dariusz Jasionek, director of sales in Poland, Global Spirits, says Morosha has had a great start in Poland this year and "we can already see sales growth of this brand due to natural development".
Morosha wasn't the only vodka in the Global Spirits stable to report significant sales increases last year. The Eastern European company's Khortytsa also experienced double‐digit growth, increasing sales by 10.1% to reach 9.8m cases. Meanwhile, the firm's Pervak soared by 16.7% to reach 1.4m cases in 2019.
Roust's Żubrówka also experienced a prosperous 2019, increasing sales by 12.8% to reach 9.7m cases. Meanwhile, the group's Russian Standard enjoyed modest growth of 2.9% to sell 3.6m cases last year.
Leading drinks firms, such as Diageo and Pernod Ricard, had more mixed results. Diageo's Smirnoff failed to stay in growth, slipping by 1.3% to 25.6m cases. And the company's Cîroc brand also declined by 12.8% to 1.8m cases. However, last year's Vodka Brand Champion, Ketel One, continued to build on its 2018 sales, which rose by 1.1% to 2.8m cases in 2019. But Pernod Ricard's Absolut also struggled to return to growth last year, dropping by 0.7% to 11.2m cases.
However, French drinks group La Martiniquaise‐Bardinet reported "good growth" for Poliakov, which grew by 4.1% in 2019 to 1.5m cases. The company attributed Poliakov's growth to consolidating its leadership in France and its continued development internationally – particularly in Eastern Europe and North Africa.
*The Brand Champions data is listed to one decimal place for ease of reading, but the percentage changes are based on the full data supplied. All brand data is supplied in millions of nine-­litre cases.
Vodka (figures: million 9l case sales)
BRAND
OWNER
2015
2016
2017
2018
2019
%+/-
Smirnoff
Diageo
25.8
25.7
26.0
26.0
25.6
‐1.3%
Absolut
Pernod Ricard
11.0
11.0
11.3
11.3
11.2
‐0.7%
Khortytsa
Global Spirits
7.3
7.5
8.1
8.9
9.8
10.1%
Żubrówka
Roust
6.2
7.1
7.9
8.6
9.7
12.8%
Hlibny Dar
Bayadera Group
6.3
6.9
7.1
7.5
8.0
7.4%
Morosha
Global Spirits
3.4
3.5
3.8
3.6
6.2
72.2%
Svedka
Constellation Brands
4.1
4.3
4.5
4.4
4.7
5.0%
Pyat Ozer
Alcohol Siberia Group
4.2
4.2
4.3
4.3
4.3
0.0%
Nemiroff
Nemiroff
4.2
3.3
4.4
4.7
4.3
‐8.2%
Soplica
Roust
2.5
3.1
3.5
3.9
4.2
8.2%
Magic Moments
Radico Khaitan
3.5
3.6
3.7
4.0
4.2
4.3%
Russian Standard
Roust
3.2
3.3
3.4
3.5
3.6
2.9%
Grey Goose
Bacardi
4.0
4.0
3.5
3.6
3.6
-0.8%
Skyy
Campari Group
4.0
3.9
3.8
3.7
3.6
-2.7%
Belenkaya
Beluga Group
3.5
3.7
3.4
3.0
3.5
14.5%
Finlandia
Brown‐Forman
3.1
3.0
3.0
3.0
2.9
-3.4%
Ketel One
Diageo
2.4
2.4
2.4
2.8
2.8
1.1%
Żołądkowa Czysta De Luxe
Stock Spirits Group
3.5
3.5
2.6
2.5
2.7
7.9%
Green Mark
Roust
2.5
2.2
2.2
2.5
2.5
0.4%
Talka
Roust
1.8
1.6
1.8
2.3
2.5
8.7%
Pinnacle
Beam Suntory
2.5
2.6
2.5
2.5
2.5
-1.6%
Żytniówka
Roust
1.6
1.8
1.9
2.1
2.1
0.5%
Cîroc
Diageo
1.8
2.4
2.0
2.1
1.8
-12.8%
Tsar
Beluga Group
1.8
2.4
2.2
1.9
1.8
-6.4%
Wyborowa
Pernod Ricard
1.6
1.7
1.6
1.7
1.8
4.1%
Prestige
Stock Spirits Group
0.9
0.9
1.4
1.4
1.7
24.6%
Kozatska Rada
Bayadera Group
1.1
1.2
1.2
1.5
1.7
13.3%
Arkhangelskaya
Severnaya Vyderzhka
Beluga Group
0.0
0.1
0.3
0.8
1.6
108.9%
Eristoff
Bacardi
1.8
1.7
1.6
1.6
1.6
0.6%
Poliakov
La Martiniquaise‐Bardinet
1.4
1.5
1.5
1.5
1.5
4.1%
Tsarskaya/Imperial
Collection Gold
Ladoga
0.7
1.0
1.2
1.3
1.5
12.1%
Pervak
Global Spirits
0.8
1.0
1.0
1.2
1.4
16.7%
Urozhay
Roust
N/A
0.2
0.8
0.9
1.2
29.0%
Topaz
Roust
N/A
N/A
N/A
0.9
1.2
41.2%
Husky
Alcohol Siberia Group
0.7
0.7
0.8
0.9
1.1
16.3%
Kedrovitsa
Alcohol Siberia Group
N/A
0.1
0.5
0.7
1.0
35.1%