Brits drinking less alcohol during lockdown
Most Brits are drinking the same or less alcohol during lockdown compared to before measures were put in place, new research shows.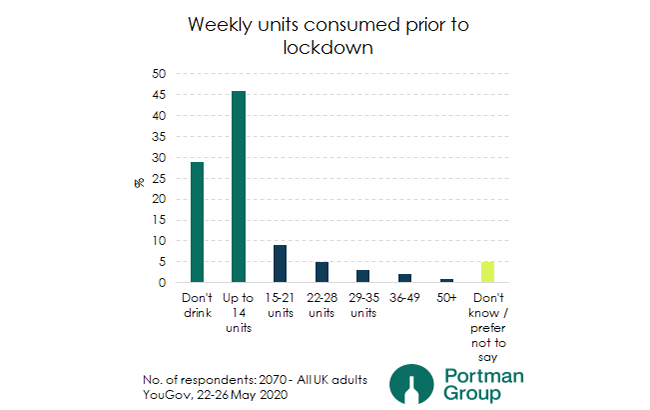 According to a YouGov survey of 2,070 UK adults between 22-26 May on behalf of trade body the Portman Group, the majority of Brits are drinking within the chief medical officer's (CMO) guidelines, which advises men and women to consume no more than 14 units per week.
John Timothy, Portman Group chief executive, said: "These surveys are further proof that fears of Brits binge drinking through lockdown are unfounded, with the majority of UK drinkers continuing to remain within the government's low risk guidelines, even those drinking a little bit more than previously."
The survey revealed that before lockdown, 75% of UK adults said they either did not drink or drank within the CMO's 14-unit guidelines.
Since lockdown measures were introduced in the UK on 23 March, 65% of UK drinkers said they were drinking the same (38%), less (22%) or had stopped drinking altogether (5%).
A total of 35% said they were drinking more alcohol during lockdown. Of these, 28% said there were drinking a little more and 7% said they were drinking a lot more.
Those who are drinking more fall into different categories: 44% said they were drinking more but within the CMO guidelines, while 22% said they were drinking over the guidelines, up to 21 units per week. The results showed older men were more likely to drinking more and above the recommended guidelines, as well as those who were unemployed or retired.
For respondents who have cut down their drinking, 18% said they had intentionally limited their alcohol purchases in shops and 10% were including alcohol-free days into their weeks.
Timothy added: "We must be mindful that there remains a minority who continue to drink at hazardous levels and have actually increased their consumption, and we join with other organisations in calling for those struggling to be given the professional support they need.
"Like so many others in the UK, I look forward to returning to our pubs and restaurants in the coming months but would also urge people to make sure they continue to drink responsibly and respect the social distancing measures in place in order to protect themselves and those around them."