Youth club: Scotch targets new generation of drinkers
As its traditional fan base ages and consumers become more category-curious, the Scotch whisky industry is recruiting a new generation through flavour innovation, alignment with cocktails and digital marketing.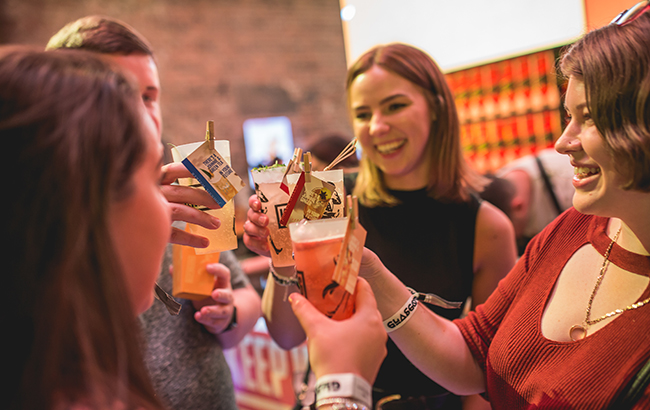 *This feature was originally published in the December 2019 issue of The Spirits Business.
Necessity may be the mother of invention but it is also the mother of reinvention; staying relevant to an evolving audience with changing values and interests is crucial to longevity. This is something many of the world's most successful brands recognise, from Madonna to McDonald's, but a concept that Scotch whisky producers have been slow to adopt.
Scotch is one of the most globally renowned spirits categories but for years has been restricted by outdated perceptions of its own design, confined by archaic rules and imagery that simply do not appeal to a new generation of drinkers. With its existing consumer base ageing, and increasing competition from world whisky and other drinks categories, reinvention has become a necessity for Scotch if it's to become relevant to a younger audience.
For brands such as Glenfiddich, the world's best‐selling single malt Scotch, at more than one million 9l cases, the transformation is well under way. "Consumer perceptions of single malt whisky have been shifting over the past few years as more people enter the category," says Maria Ropero‐Ortiz, senior brand manager for Glenfiddich.
"Single malt newcomers today tend to be younger, aged between 25 and 35 years old, a sign of the younger demographic becoming more attracted. This is a fantastic position for the category to be in, but there is still a long way to go before single malts are achieving the growth volumes of traditional 'powerhouse' spirit categories such as vodka and gin. This means brands must focus their efforts on targeting a younger demographic today to secure greater market share of tomorrow's whisky drinkers."
The targeted approach appears to be paying off, in the US at least. According to IWSR Drinks Market Analysis, in 2015 almost a quarter (22.6%) of American Scotch whisky drinkers were aged over 65, making them the largest age demographic for the category. By 2018 the tables had turned, with those aged between 25 and 34 now the biggest age group among Scotch consumers in the US.
However young Americans still have a greater attraction to other 'less stuffy' categories, such as Irish whiskey and Bourbon, with those aged between 25 and 34 comprising 29.5% and 25.5% of the market respectively.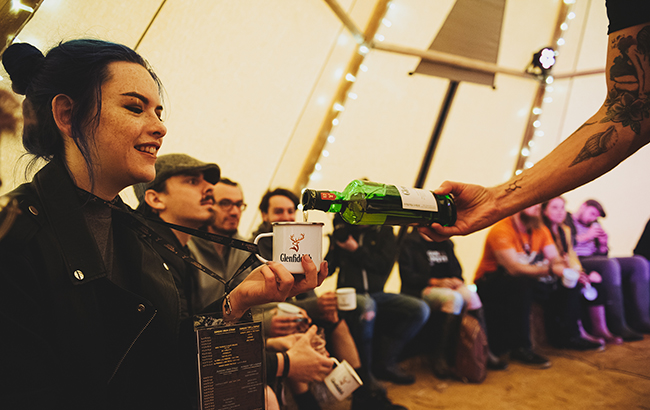 NEW GENERATION
Reinvention is not a new concept for Scotch producers, some of which have been in business for hundreds of years and have weathered uncertainty through the advent of continuous distillation, two world wars, Prohibition, the Pattison crash and a whisky loch. But how does a category that's followed the same marketing clichés for decades begin to appeal to a new generation of potential Scotch lovers who may have discounted it as a drink that's 'too strong', 'too complicated' or 'for men'?
"Some people think they won't like whisky; there can be a lot of preconceptions about flavour, rules, occasions and pretty much everything else. But, of course, Scotch has incredible variety and versatility," says John Williams, global brand director for Johnnie Walker. "We're embracing the possibilities of that versatility, rather than being bound by any perceived restrictions – and that mindset is creating a really exciting and vibrant world for us."
Despite being made from just three ingredients and bound by strict production regulations, versatility is one of Scotch whisky's major strengths. It means brands are finally moving away from the standard 'sweet flavours for beginners' attitude to offer newcomers a choice of whiskies that are as individual as their palates. Styles are authentic to the category and brand, with flavours traditionally derived. It's an approach seen in Johnnie Walker's new Black Label Origin series of four blends based on regional whiskies that present different flavour profiles – smoke (Islay), fresh fruits (Speyside), rich fruits (Highlands) and vanilla creaminess (Lowlands).
Speyside's Glen Moray is one distillery offering a selection of cask‐finished single malts designed to appeal to a variety of tastes in its Elgin Classic Collection. Laure Habbouse, international marketing manager for Glen Moray, claims the no‐age‐statement series "targets new consumers in the way that it allows a full yet simple exploration of single malt through very approachable expressions in taste, but also in price".
She adds: "Consumers are always amazed to be able to notice themselves the difference between a malt finished in a Port cask compared with one finished in a Chardonnay cask, or to see the influence of peat. It's an educational approach through a genuine experience."
FLAVOUR CUES
As age statements become less important to consumers, diverse ranges that clearly communicate flavour cues present an opportunity to gently help new drinkers navigate the category. Unlike many other drinks, whisky suffers from the widely held belief that it all tastes the same. By presenting consumers with the knowledge that a variety of styles exist, and equipping them with the confidence to try new expressions, the chances of them going on to explore the category further greatly improve.
Glenfiddich's Ropero‐Ortiz agrees: "With the wide variety of single malts on the market, educating on taste and finding the right liquid for an individual palate is crucial; almost as crucial as creating new whisky‐drinking occasions that are relevant for today's consumer."
With so many high‐quality drinks now available, Scotch doesn't just compete against other whiskies for share of spend. "Today, we see the primary drivers of category consideration are the occasion and the company you are keeping," says Caspar MacRae, marketing director for Glenmorangie Company. "A Glenmorangie Highball in Australia competes in the same occasion as a gin and tonic or a glass of beer. It's both exciting and challenging that nearly all categories are both a source of business and a potential threat. It's important to make our brands engaging and appealing to as many people and in as many occasions as possible."
Positioning the Highball as an accessible alternative to a gin and tonic, particularly during the winter in gin's 'off season' is the obvious antidote to two misconceptions in one: that Scotch 'can't be mixed', and that it's 'too strong'. It's a drink that Johnnie Walker is putting at the heart of its brand. "Highballs are brilliant drinks that give people lots of ways to try whisky for the first time," says Johnnie Walker's Williams. "We're putting a real focus on key serves that are simple enough for people to make at home, but exciting enough to inspire bartenders around the world."
He highlights the five 'big, bold' flavours in the brand's Highball communication: peach, lemon, elderflower, ginger and green tea. "There are some surprising choices in there but they all create amazing‐tasting drinks," he says.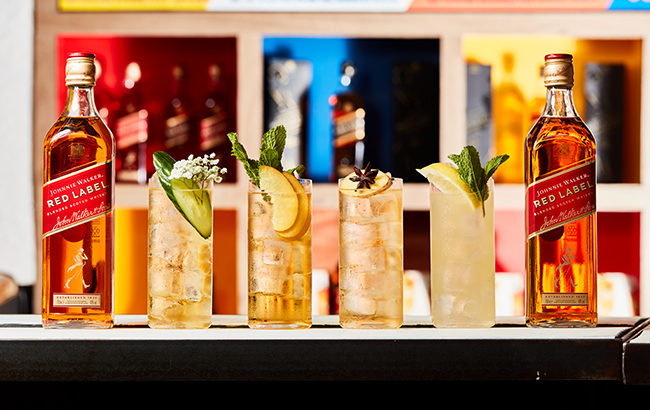 INTERESTING OPTION
The challenge is then ensuring the Highball is promoted in key bars and accompanied by an effective education programme for bartenders. Williams adds: "We've been working hard to put Scotch at the socialising centre of the most vibrant cities and neighbourhoods in the world, and working equally hard to show people in those cities that Johnnie Walker Highballs are often a more interesting option than their more familiar apéritif, G&T or beer."
From the bar to the home, Scotch brands are also embracing the power of technology to educate consumers in comfort. While Diageo has developed a Talisker Tasting Experience through Amazon Alexa Skills, enabling consumers to discover more about the distillery from their living room, while John Dewar & Sons has moved into interactive live‐streamed tastings with the online retailer. In October, it streamed a tasting of three exclusive single malts from Aberfeldy, Aultmore and Craigellachie with master blender Stephanie Macleod.
Its mission? "To recruit new drinkers," says Ian Taylor, global brand director for malts at the company. "It allowed for education in the most accessible way – from the comfort of your own home. We believe it appealed because it allowed non‐Scotch drinkers or Scotch 'beginners' to feel confident when tasting a new whisky when sitting at home and drinking in a non‐intimidating environment. This is the first time anyone has done it; we've got some very good learnings from the experience, and it's an area we hope to develop."
Whether embracing accessible price points, flavour cues or digital technology in their quest to recruit new drinkers, Dewar's Taylor warns brands not to forget the traditional drinker. For the Bacardi‐owned company, this involves approaching all consumers, new and existing, who share similar values.
"As a company we don't actually look at demographics," he says. "We like to look at psychographics, taking into consideration mindsets and attitudes. "And if we get that right, we can then target people that have similar desires and wants, which means that our whiskies can appeal to people across all demographics, and not alienate people of any age. We're particularly interested in people with an inquisitive mind."
Just like McDonald's hasn't abandoned the Big Mac, Scotch must not forget its heritage and identity in its quest to recruit new drinkers. But perhaps most importantly it must actively seek to crush the category's antiquated 'rules' through leading by example, to represent consumers' core values through every facet, from still house to social media.
As Glenmorangie's MacRae says: "As a category we need to be open, unpretentious, warm and embody the generous hospitality that are trademarks of the real Scotch whisky experience."