Angel's Envy experimenting with 'crazy ideas'
By Amy Hopkins
Having launched in its first overseas market, Bourbon brand Angel's Envy has said that innovation will remain a core part of its business, with 17 experiments taking place behind the scenes.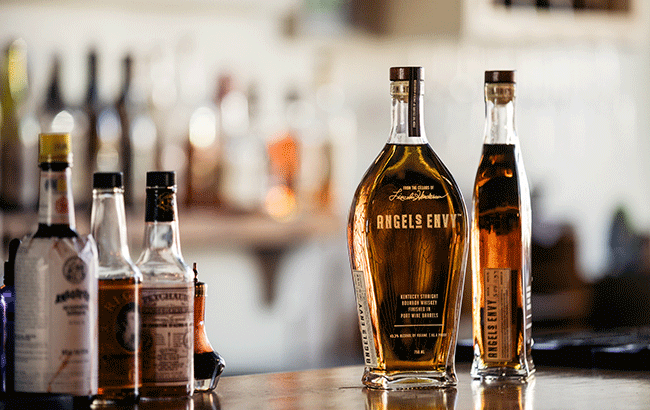 This week, Angel's Envy debuted its core Port cask-finished Bourbon in the UK, starting with a limited number of cases for select on-trade accounts.
The brand – which is made in Louisville, Kentucky – was first launched in 2011 by Wes Henderson and his father, the late Lincoln Henderson, who was formerly the master distiller at Woodford Reserve. Other family members later joined the business, which was acquired by Bacardi in 2015.
The brand's portfolio focuses on barrel-finished Bourbon, and in addition to the Port cask-finished Kentucky straight Bourbon its core range includes a rye finished in rum casks. Angel's Envy launched a limited edition Sherry cask-finished iteration last year and a tawny Port cask-finished Bourbon earlier this month.
Speaking to The Spirits Business, Wes Henderson said Angel's Envy is continuing to experiment with different barrel finishes, as well as other types of innovation.
"We have 17 different innovation projects in various stages," said Henderson, who in addition to being the brand's co-founder is its chief innovations officer. "We have become known as really the first Bourbon to do secondary barrel finishes; that's a sweet spot for us and we like that sandbox and continue to play in that sandbox, and I think we do it better than anybody else.
"But within that we can do different mashbills, different barrel entry proofs; all kinds of different crazy ideas. We've done a lot in the fortified wine space, and we've got finishing whiskey in other barrels as well that aren't fortified wines."
The UK marks Angel's Envy's first overseas market and will be followed by Australia next month. The brand is also considering launching in a number of European markets, according to Henderson.
Angel's Envy was previously prevented from launching into the UK due to a lawsuit by absinthe maker La Fée, which creates products under the Envy & NV Spirits brand name. Henderson said the suit was "all worked out" a number of months ago.
'Nobody likes tariffs'
The brand has entered the UK market at a time when retaliatory tariffs between the EU and US have taken a bite out of the American whiskey industry.
But, Henderson said: "We're just going to ease our way in. We are still a small brand; we're not flooding the market with a lot of product. Nobody likes tariffs, but we're going to inch our way over here."
Henderson also said that while he "would like to have more" aged Bourbon inventory, Angel's Envy "will be able to support" its international partners in the coming years.
The distillery in Louisville has reached its maximum capacity of 140 barrels a day, while new maturation warehouses for the brand are being built at a site close by.
According to Henderson, there is space in this area of land to build another still house "when necessary". He added: "It's not a case of 'if'; it's 'when'."